New British Prime Minister Gordon Brown appoints openly gay man, Spencer Livermore, director of political strategy at 10 Downing Street: "The 31-year-old has unrivalled access to the new Prime Minister and will play a key role in shaping the direction of the Brown government. Mr Livermore was ranked seven in this year's Independent Pink List, making him the most powerful gay person in UK politics."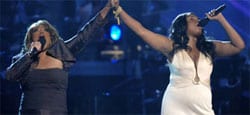 They're not going: Jennifer Holliday and Jennifer Hudson are BFFs.

Al Gore takes lead over other Democratic candidates in hypothetical New Hampshire poll.

Sweden may soon adopt "gender neutral" marriage legislation, allowing same-sex couples to not only marry legally but to do so within a major church. Pastor Arne Wikstroem of the Oscars parish: "If today we are blessing homosexuals, I see no reason not to celebrate gay marriages. I think all people are equal before God. And no man is unholy or unblessed. We are all equal and all need God's blessings in our lives. If God has created people as homosexuals, we must accept them and we must bless them."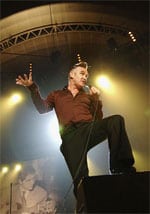 Still ill: Morrissey down with throat infection, cancels tour dates.

Britney Spears was expected to join the True Colors tour at its stop in Los Angeles but canceled when she found out a small but important detail — she would actually have to sing.

On 1983, vacation, Mitt Romney scared the shit out of his dog…literally: "The incident: dog excrement found on the roof and windows of the Romney station wagon. How it got there: Romney strapped a dog carrier — with the family dog Seamus, an Irish Setter, in it — to the roof of the family station wagon for a twelve hour drive from Boston to Ontario, which the family apparently completed, despite Seamus's rather visceral protest."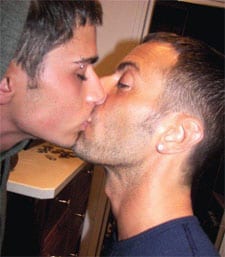 20-year-old receives a designer kiss.

Andre Jackson the East Side High School student at the center of the gay yearbook kiss controversy, graduates.

Elton John planning massive Las Vegas charity bash…in England: "Elton is hoping that his friends will enjoy tonight and remember it as their best invite of the year. He wants it to be an enjoyable night for all of his closest friends, so he thought came up with the idea of Las Vegas. He has invested in getting roulette wheels, croupiers, slot machines and generally re-enacting the atmosphere of Las Vegas, and he has got his entire celebrity guest list waiting to turn up."

Bangkok nightclub faces boycott after refusing entry to a transvestite. Management: "What happened on Saturday night was regrettable but was most definitely not part of the CM2 nightclub entry policy, nor was it supported by its management."

CBS announces Big Brother 8 cast, reveals photos of new house.