While the John Edwards publicity machine was in full gear during gay pride, the Bay Area Reporter notes that candidates not as high in the polls were getting left in the dust as mainstream media ignored their efforts: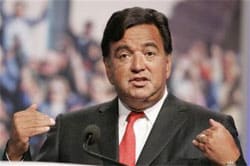 "Based on the coverage in the local daily press one would think [Elizabeth Edwards] was the first person tied to a presidential campaign to make such [a gay pride] appearance. Yet Richardson, and not his emissary, showed up at the Pride festival in Cedar Rapids, Iowa Saturday, June 2. Unlike Elizabeth Edwards, who went to an LGBT Democratic political club's private event where non-members had to pay $85 to get in, Richardson dropped by the Midwest city's public festival and met with attendees free of charge. [Curiously enough, an actual presidential candidate took part in San Francisco's Pride parade, but former Alaska Senator Mike Gravel's appearance went unreported by the mainstream press. The reason is right in the lead of the two articles the San Francisco Chronicle published, which touted Elizabeth Edwards's being at the Pride breakfast as "a first for a major presidential candidate or spouse." Gravel polls near the bottom of the pack.] Also not mentioned in the coverage is that John Edwards could have joined Richardson at the Iowa Pride festival, as could have New York Senator Hillary Clinton, Connecticut Senator Christopher Dodd, and Delaware Senator Joe Biden. All five candidates were in town that day for the Iowa Democratic Party's Hall of Fame dinner. Clinton had even been rumored to attend but never showed."
Our report on the claim by the San Francisco gay pride organizers stands corrected.