Newark schools superintendent Marion Bolden made a public apology to a group of assembled students on Tuesday before talking personally with Andre Jackson, the 18-year-old student whose photo she had ordered blacked out of 230 school yearbooks because it depicted Jackson in a kiss with his boyfriend.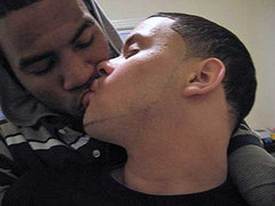 Said Bolden: "We have to own up to the fact that it was a homophobic moment. That's what everybody's afraid to say. There are sensitivity issues we need to talk about as a result of this."
Actually, I think everyone but the superintendent was aware it was a homophobic moment. It's Bolden that needs the sensitivity training.
According to the Associated Press, "Bolden said she arrived at the school Tuesday to find [Jackson] reluctant to speak with her, but that the two spoke after she made a public apology to the assembled students. 'He said he felt a lot better,' Bolden said. 'He said he's had more issues around his coming out from outside school than in school, so it was particularly hard for him.' During her public remarks, she said the picture of Jackson kissing his boyfriend was not appropriate for the yearbook and that, if it was to be removed, two pictures of heterosexual couples kissing should have been removed as well."
Backstory…
Gay Kiss Student Still Waiting for NJ Superintendent's Apology [tr]
NJ Superintendent Apologizes for Censoring Gay Kiss [tr]
Student's Gay Kiss Photo Struck from NJ School Yearbook [tr]