The Enterprise reports that police in Brockton, Massachusetts are planning a "summer offensive" to rid the city's D.W. Field Park of gay men who allegedly travel there for sex.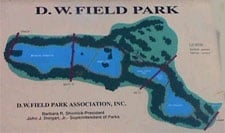 Said Brockton Police Chief William K. Conlon: "Word is out on the Internet that this is a great spot for men to meet. I want the park to have a family atmosphere, so we are going to have a police presence up there through the summer. This is a long time coming. It has been bad up there for too long. I have been trying to work with the police to have permanent patrols up there, but if they are going to only be there for the summer, I suppose it's better than nothing. A tougher police presence is definitely needed. There were people there from Fall River, Revere and Sharon. I do not have a problem with people's sexuality, but there are kids up there, mothers with strollers and families feeding the ducks. They don't feel safe anymore, that is what really gets me going."
The police department says it has been receiving complaints from area residents about "sex toys, condoms and drug-related items" littering the park.