Approximately 500 marchers at a gay rights rally in Bucharest, Romania were met by hundreds of protesters who hurled stones, eggs, tomatoes, and trash at them in an effort to break up the march. Thankfully, over 700 officers were in place to protect those marching. They held off the violence with tear gas and arrests.
Police spokesman Christian Ciocan told Reuters: "No one was hurt during the parade, we detained dozens of violent (any-gay) protesters." Monsters and Critics reports that " The attackers were not identified as part of any organized group, though authorities suspect connections to a right-wing religious association Noua Dreapta, or the New Right, which rallied Saturday morning against the gay-rights march later in the day."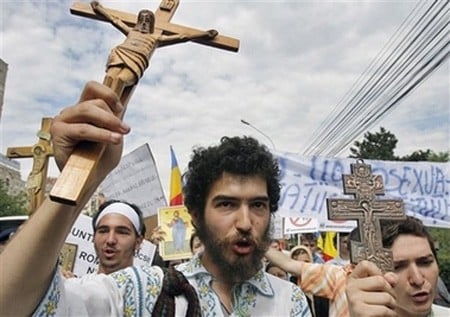 Police also reportedly thwarted an attack on Tuesday, according to the Guardian: "Two men leaving a Bucharest cinema that hosts the annual "Gay Fest" festival were beaten by eight attackers. Police stopped the attack and arrested several people."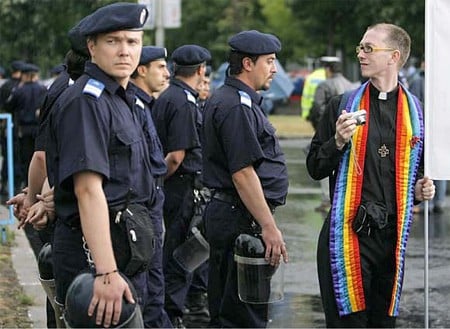 Half of those arrested were juveniles, police reported. They will face fines for disturbing the peace. Romania decrimialized homosexuality in 2001 as part of reforms intended to facilitate their entry into the European Union.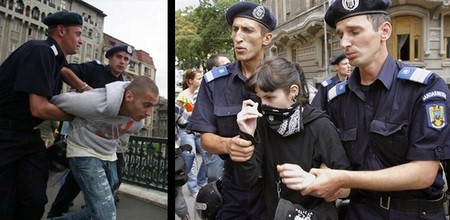 Past Gay Prides in Romania…
Second Gay Pride in Romania a Violent Affair [tr – 2006]
Romania holds its first Gay Pride March [tr – 2005]