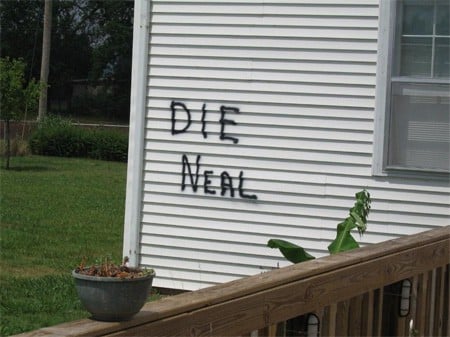 This time it's a death threat. The ACLU and the Hate Crimes Task Force with the Tennessee Equality project have stepped in to help investigate the continued anti-gay harassment of Neal Anthony.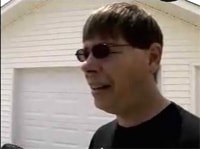 Anthony, who lives in McMinnville, was targeted in April by vandals who sprayed anti-gay messages on the side of his home and peppered it with paintballs, breaking windows.
"Fags deserve to die" and "all gays go to hell" were two of the messages written on the sides of his home, an historic residence built by his great-grandfather who was a county judge.
A group of teens were later charged in the paintball vandalism but the harassment has continued. In late May, Anthony's windows were broken by rocks and threatening messages were sprayed on the inside of his barn.
In this latest attack, vandals sprayed the words "Die Neal" on the outside of his house. They were discovered by his partner Mike, according to Tennessee paper Out & About, who published the above image.
Out & About is the paper recently targeted by Kroger Grocery stores and removed from store shelves.