Analyst: Apple planning iPhone Nano priced at $300 or lower.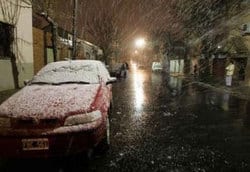 Look out, Buenos Aires: City sees first snow since 1918.

Though Sunday night's episode featured its first (and apparently only) full-frontal shot, the boys of Entourage won't be showing much skin any time soon. Says producer Doug Ellin: "I don't have any interest in seeing that. Adrian has tried to do that a couple of times. I've told him no. Sundance specifically. One scene in the hot tub he just decided to go without his pants on, but we didn't use that take."

Smell this: Clay Aiken's wandering foot in fracas at 35,000 feet.

Michigan judge Janet Neff, whose nomination was objected to by Sam Brownback because she once spoke at a lesbian civil union, is confirmed for Michigan's federal court.
The L.A. Times talks to Hairspray director Adam Shankman: "The movie is so laden with message you can't play the message, ever. I just want people to relate to Tracy's journey. The craziness of the material will never go away. The whole reason you have a man playing Edna is because everything is all mixed up and crazy and you can't judge books by their covers. I am Tracy. I'm this outsider who always just desperately wanted to perform and be successful."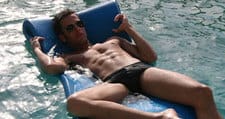 Meet Lance Bass' Latin lover Pedro Andrade.

Steven Spielberg-designed videogames to be shown off at gaming conference E3: "The first, codenamed LMNO, is a contemporary action adventure, said Neil Young, general manager of EA's Los Angeles studio. The second, with the codename PQRS, is a puzzle game designed for Nintendo's Wii console…Spielberg said the puzzle game 'seemed like a great thing for the entire family to play together over Christmas; although you don't need the excuse of a holiday to enjoy it.' The game has been described as a mix of Saturday-morning cartoon and Jenga. Mr Young said: 'Of course just playing with blocks does not a game make. Now imagine there are up to 50 different properties that can be associated with them. They can explode or form a chemical reaction.'"

Shut up and drive: Residents of Oregon town upset about penis-shaped traffic posts.

Madonna demands eye contact at Live Earth interviews: "Never look down to check notes – all questions must be memorised or the interview will be terminated."