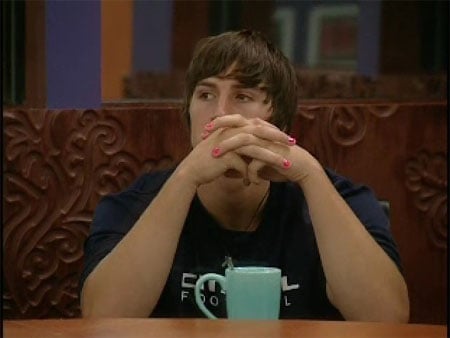 WARNING: SPOILERS
Nick Starcevic's activities (as edited by CBS for primetime) in the Big Brother 8 house have mainly consisted of striking up competing flirtatious relationships with some of the women, even strategically isolating one of them (Jen) among the other housemates by confronting her for making the false claim he was trying to kiss her.
Yet the BB8 internet feeds tell a slightly different tale. If he's not gay, then Nick appears to be doing a great job of at least placing that question in his housemates' minds. Nick's definitely a player, comfortable with allowing gay housemates Joe and Dustin to dry hump and massage him (below), respectively.
But the latest dish is the clip below in which Nick tells Zach and Dick that he has a "top 5" list of men with whom he would have sex. Later, he discussed the list with his "showmance" Danielle.
Sure, we like Ryan Reynolds too. Big Brother is, of course, a game of strategy, so the truth may be far from what we're seeing, but thankfully in the meantime what we're seeing is pretty easy on the eyes.
you may have missed…
Big Brother 8's Nick Starcevic Plays the Gay Angle [tr]