Chief Justice John Roberts had a "benign idiopathic seizure" on a dock at his summer home in Maine and was transported, conscious, to a nearby hospital, where he was to remain overnight.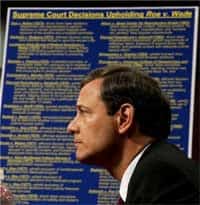 The seizure, described as idiopathic because the cause is unknown, is similar to one he suffered 14 years ago. Senators were reportedly aware of the earlier seizure when they confirmed Roberts in 2005. Roberts is the youngest justice on the Supreme Court at age 52.
The NYT reports: "Statistically, he said, it is 'extremely unlikely' that this seizure represents a brain tumor. Fewer than 5 percent of those with recurrent seizures have brain tumors as a cause, and a very slowly progressing brain tumor would be rare. Epilepsy is a common condition among Americans. The approximate risk of having a single seizure in one's lifetime is 9 percent. By Chief Justice Roberts's age, the risk is 7 to 8 percent. About 3 percent have a recurrence, and 1 percent of Americans at any one time are under treatment for epilepsy."
Doctors admitted it would be difficult to pinpoint the cause of the seizure, making it hard to determine whether medication would be necessary.
Chief Justice Is Hospitalized After Seizure [nyt]
You may ahve missed…
Roberts Proving an Artful Dodger [tr]
Roberts Worked Behind the Scenes on Gay Rights Case [tr]
More on John Roberts [tr]