The Democratic candidates trotted out answers we've heard before on the question of gay marriage at last night's YouTube debate.
In the first question posed to the candidates, Brooklyn lesbians Mary and Jen asked if the candidates would allow them to marry.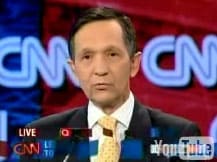 KUCINICH: "Mary and Jen, the answer to your question is yes. And let me tell you why. Because if our Constitution really means what it says, that all are created equal, if it really means what it says, that there should be equality of opportunity before the law, then our brothers and sisters who happen to be gay, lesbian, bisexual or transgendered should have the same rights accorded to them as anyone else, and that includes the ability to have a civil marriage ceremony. Yes, I support you. And welcome to a better and a new America under a President Kucinich administration."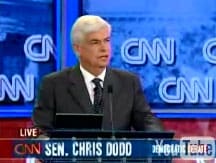 CHRIS DODD: "I'd simply ask the audience to ask themselves the question that [my wife] Jackie and I have asked: How would I want my two daughters treated if they grew up and had a different sexual orientation than their parents? Good jobs, equal opportunity, to be able to retire, to visit each other, to be with each other, as other people do. So I feel very strongly, if you ask yourself the question, "How would you like your children treated if they had a different sexual orientation than their parents?," the answer is yes. They ought to have that ability in civil unions. I don't go so far as to call for marriage. I believe marriage is between a man and a woman. But my state of Connecticut, the state of New Hampshire, have endorsed civil unions. I strongly support that. But I don't go so far as marriage."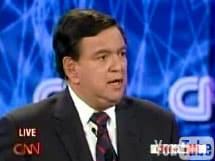 BILL RICHARDSON: "I would do what is achievable. What I think is achievable is full civil unions with full marriage rights. I would also press for you a hate crimes act in the Congress. I would eliminate 'don't ask/don't tell' in the military. If we're going to have in our military men and women that die for this country, we shouldn't give them a lecture on their sexual orientation. I would push for domestic partnership laws, nondiscrimination in insurance and housing. I would also send a very strong message that, in my administration, I will not tolerate any discrimination on the basis of race, gender, or sexual orientation."
The second question, which I posted on Towleroad last week, came from Reverend Reggie Longcrier, to John Edwards — "So why is it still acceptable to use religion to deny gay American their full and equal rights?":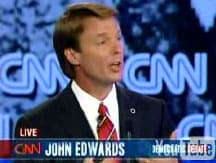 EDWARDS: "I think Reverend Longcrier asks a very important question, which is whether fundamentally — whether it's right for any of our faith beliefs to be imposed on the American people when we're president of the United States. I do not believe that's right. I feel enormous personal conflict about this issue. I want to end discrimination. I want to do some of the things that I just heard Bill Richardson talking about — standing up for equal rights, substantive rights, civil unions, the thing that Chris Dodd just talked about. But I think that's something everybody on this stage will commit themselves to as president of the United States. But I personally have been on a journey on this issue. I feel enormous conflict about it. As I think a lot of people know, Elizabeth spoke — my wife Elizabeth spoke out a few weeks ago, and she actually supports gay marriage. I do not. But this is a very, very difficult issue for me. And I recognize and have enormous respect for people who have a different view of it."
As you can see, Edwards pretty much dodged the real question, however, Longcrier's question and Edwards' answer were both praised by Faith In America Executive Director Rev. Jimmy Creech.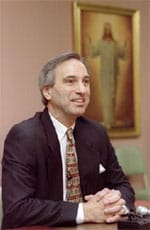 Said Creech: "In answering Rev. Longcrier's question, Senator Edwards made an important commitment to not allow his personal religious beliefs to restrict the rights of any American. We congratulate him and encourage all leaders and candidates to give serious consideration to this issue and how they will represent the interests of this nation. Millions of gay Americans struggle every-day against the misuse of religion to perpetuate prejudice and inequality. These individuals don't just fight bigotry when they're denied the right to marry their partners, they combat it on the street, in the workplace, in their children's schools, and in every other aspect of their lives. Religion-based prejudices pervade and profoundly shape the daily experiences of these people and I'd like to commend my friend Rev. Longcrier for furthering the national dialogue for those and all Americas on this critically important subject."
According to a SurveyUSA Instant Poll, most thought Clinton "won" the debate, but Joseph Biden made a big impression with viewers as well.
Politics TV has the full debate, question by question.
Full debate transcript here.
YouTube video debate actually worked [nyt]
(video source: hrc)