I Now Pronounce You Chuck & Larry edges out Hairspray at the box office. The ACLU suggests that after having a laugh at Sandler and James, moviegoers "find out what it's really like to be denied legal protections for your family" by visiting 10Couples.org.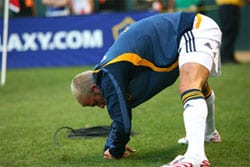 Beckham bends it for Los Angeles. Cruises roll out the welcome mat.

New York Times Director of Photography Michele McNally named in internal homophobic F-bomb slur that inspired the company to send out a diversity memo.

AfterElton tabulates the 100 hottest guys.

World Jewish Congress secretary-general Stephen Herbits to head up Hillary Clinton's campaign efforts to the gay and lesbian community: "Herbits has in the past held several positions related to the gay and lesbian community in the United States. In his last post, Herbits served as the personal assistant to Donald Rumsfeld during his term as secretary of defense. He was then appointed secretary-general of the WJC."

CDC recruiting uninfected volunteers from Thailand, Botswana and the U.S. to test "pre-exposure prophylaxis" in trial HIV drug test.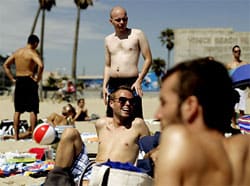 L.A.'s Guerilla Gay Bar group invades Venice Beach and the New York Times takes notice: "the real motivation, according to the group's manifesto, is to overcome boredom with a 'ghettoized and sub-ghettoized' gay scene — which in Los Angeles is synonymous with the club and bar circuit in West Hollywood. 'There's a place for gay bars, but we feel gay people have become so segregated that some of them don't go out into the wider community anymore,' said Matthew Poe, an organizer and the box office manager for UCLA Live, a performing arts producer and presenter. 'We want to suggest that the world is bigger than West Hollywood.'"

Frommer's Travel presents a podcast on the issues facing gay and lesbian travelers featuring MTV Roadtrips co-author Kelsy Chauvin, Frommer's editor Kathleen Warnock, Ed Salvato of OUT Traveler, and host David Lytle.

Madonna wants to direct movie about ex-con ex-boyfriend Chris Paciello.

And the queer men who indie rock.

Rosie O'Donnell's R Family takes over family week in Provincetown.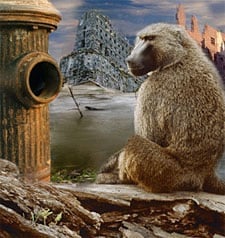 The World Without Us
explores civilization's decay in the absence of human life: "How would the rest of nature respond if it were suddenly relieved of the relentless pressures we heap on it and our fellow organisms? How soon would, or could, the climate return to where it was before we fired up all our engines? How long would it take to recover lost ground and restore Eden to the way it must have gleamed and smelled the day before Adam, or homo habilis, appeared? Could nature ever obliterate all our traces?"

Seattle gets a local gay publication, 'Mo. Editor: "We're not a bar mag. … You're not going to see a lot of 20-year-old men in their underwear. We're both 40-something gay men, so the magazine probably hangs out at the 30-plus-year-old range. And we've gotten great feedback about that. People like to look for themselves. Our mission is to get as many faces in the magazine, as many organizational logos and businesses into the pages as we can.

Human Rights Campaign criticized for lack of street-level action, campaign contributions.

First-of-its-kind book features gay male Canadian poets.

David Mixner on loss, loneliness, and healing: "For me, I have had to grow old without my peers. Without my friends to share the history of those joyous moments before AIDS hit – the flourishing of the Castro Street area, the excitement of the sexual revolution, the sheer high of coming out of the closet and the early days of our struggle for freedom. What a time it was to be alive and to be gay. I loved every day before the darkness hit. I would love to be able to sit around at dinner parties with friends no longer here and reminisce of those glorious days."