A 42-year-old man who "had been told that he was the outstanding candidate" for a youth worker job he was applying for with the Church of England but was turned down afteer a grueling interview session in which a Bishop asked him probing questions about his sexual behavior, has won a landmark case before an employment tribunal in Britain.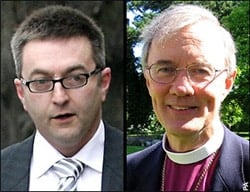 The Telegraph reports: "Mr [John] Reaney…said that the meeting had left him feeling embarrassed, upset and 'a total waste of space'. He said he had pulled over while driving home and broke down in tears. Three days after the meeting, the bishop telephoned Mr Reaney to say his application had not been successful. During his evidence, Bishop Priddis said he had made it clear to Mr Reaney that a person in a sexual relationship outside marriage, whether they were heterosexual, homosexual, bisexual or transgender, would be turned down for the post. The Bishop said that Mr Reaney's behavior was contrary to official Church teaching and had 'the potential to impact on the spiritual, moral and ethical leadership within the diocese'. The tribunal found that Bishop Priddis should have considered only the present lifestyle of Mr Reaney, who is single, and he should not have speculated about potential future relationships."
Stonewall chief executive Ben Summerskill responded to the decision: "This outcome is a triumph for 21st century decency over 19th century prejudice.The tribunal has rightly made clear that the Church of England cannot discriminate against gay people with impunity. No one, not even a bishop, is exempt from the law."
"Substantial compensation" to Mr. Reaney is expected to be forthcoming.