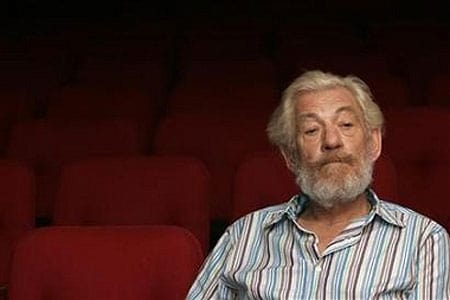 Ian McKellen, who has fully disrobed during performances of King Lear in Britain, has been asked to avoid the display while performing in Singapore.
McKellen told the Associated Foreign Press: "It is King Lear doing it, not Ian McKellen doing it, so I don't take particular offence if I'm told 'would you mind not doing it?' But what would happen, I wonder, if I did take all my clothes off and instead of my genitalia, I was wearing a pair of false genitalia. Would that be thought inappropriate? Call it censorship, call it advice, it gets in the way a little bit. I think it's a little bit silly. I'd say, on the whole, people who come to the theatre to see Shakespeare expect to have the whole of life revealed to them — and if that means a glimpse of an actor's naked body, so be it."
McKellen quipped that he had a remedy for the situation: "I got a rather fetching pair of underpants … they say on the back, 'Hello Singapore.'"
The actor also spoke out on a local radio show, urging the government to drop its laws against homosexuality before giving a more significant interview to Reuters on the issue.
Said McKellen: It would be impertinent of me to comment on Singapore society but this happens to be a law that I find personally offensive and I don't think it should be on the statute books because it inhibits my free behavior as an openly gay man. I feel free to comment on behalf of people who do have to suffer laws which the British empire invented and left behind…The press like to talk to actors. They mustn't be surprised when actors talk back to them. We are privileged that we have access to the media and our opinions sometimes are reported and I appreciate that. But I only speak on things that I am an expert on…You won't hear me talk about my politics, you won't hear me talk about my vegetarianism, you won't hear me comment on the Iraq war. You'll only hear me talk about being gay and being an actor. I am just public on those two issues."