At the opening of Outhouse, a renovated LGBT community center in Dublin, Ireland's Taoiseach Bertie Ahern promised to push legislation that would allow same-sex couples the same rights as heterosexual married couples as soon as possible.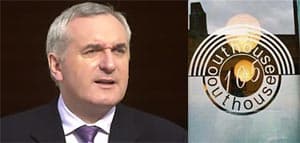 Said Ahern: "This government is committed to providing a more supportive and secure legal environment for same-sex couples. We will legislate for civil partnerships at the earliest possible date in the lifetime of this government."
Outhouse, according to the Irish Post, receives 25,000 visitors annually to its cafe, library, and business center. It was renovated following a pair of arson attacks.
Said Outhouse manager Louise Tierney: "The lack of recognition of same-sex relationships is a barrier to real equality. It engenders discrimination and puts gay people at a distinct disadvantage when it comes to basic rights around inheritance. The 30th Dail should prioritise legislative reform to allow for recognition of gay partnerships. While we would like to see such reform within the coming year it would be unacceptable if it did not take place within the lifetime of this Dáil (the lower house in the Irish parliament)."