John McCain's campaign manager and chief strategist exit: "In statements, Terry Nelson, a veteran of President Bush's successful 2004 re-election effort, said he resigned as campaign manager effective immediately and John Weaver said he stepped down from his post of chief strategist on Tuesday. But other officials, who spoke on the condition of anonymity to avoid discussing private conversations, said Nelson was fired."

Capturing the cherry at Cherry Grove, Fire Island.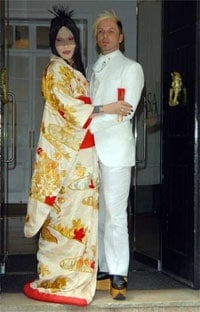 Former Dead or Alive singer Pete Burns got hitched: "This is the second marriage for Burns, who was married for twenty-five years to his wife Lynne. During Burns' stint on Celebrity Big Brother on live television, he announced the couple's wedding engagement. One break-up and reconciliation later, the two scooted themselves down the aisle."

Bill Richardson apologizes for using "maricón" slur after being goaded by Don Imus in 2006: "Almost exactly one year before Imus was to lose his show for using a slur to describe the Rutger's women's basketball team, the shock jock used the Spanish word 'maricón' in an on-air exchange with Richardson. 'Bernard on the staff here has been claiming you're not really Hispanic so– that you're just claiming that for some sort of advantage or something,' Imus said to Richardson, tongue clearly in cheek. 'You can just answer this yes or no and this will answer that question. Would you agree that Bernard is a maricón?' Without missing a beat, Richardson replied in Spanish, 'Yo creo que Bernardo, sí — es un maricón si él piensa que yo no soy hispano. [General laughter] Was that good enough or what? [General laughter]' 'That's good enough for me,' Imus replied."

Groove Armada's Andy Cato says they'll lead Kylie Minogue back to the top of the charts: "Ours is the best tune. The track we've done is a killer. It's sort of Blondie pop with a stripped-back sound. I'm quietly confident about it."

Desperately Seeking Susan coming to the London stage.

Victoria Beckham reality show to air July 16th: "It's funny. People really get to see what I'm really like. I have quite a dry sense of humor, which I hope is going to translate to Americans. I'm incredibly blessed and I wanted to show that to everybody."

Former communications director at 10 Downing Street reveals in diary entry that Tony Blair laughed when he learned of the gay mugging of then Welsh Secretary Ron Davies: "We took him (Blair) into the dining room and told him what we knew. "He looked surprised but not shocked and then, as I had, laughed. 'Bloody hell' he said."