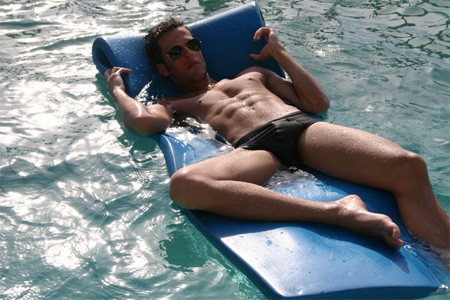 Lance Bass officially brings his relationship with Pedro Andrade out of the closet, talking to People magazine about meeting the Brazilian model while traveling with gay designer duo Heatherette to the Life Ball AIDS benefit in Vienna, Austria.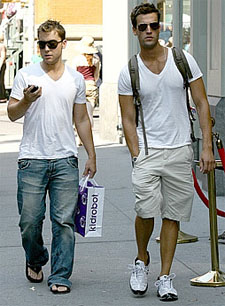 Said Bass:
"He was asleep in the back of the plane on the way over. I was like, 'He's really cute.' It's so fresh and new. The good thing is learning everything about him. He's really great . . . amazing. It's fun to say, 'Hey, I'm seeing someone I met in Vienna.' We were there for, like, 24 hours. It's the first time I've ever been able to date, so it's nice to go out and get to know people and not jump into a relationship right away, which I usually do."
In other news, Bass will be joining the cast of Hairspray on Broadway on August 14th, playing dance show host Corny Collins. Incidentally, Bass also has a cameo in I Now Pronounce You Chuck and Larry, opening this weekend, playing a wedding singer.
Meanwhile, Andrade has his hand slapped by TMZ for being a bad tipper.
You may have missed…
Vienna Life Ball Brings out the Glitter to Fight AIDS [tr]