Didn't get to this item last week, but Matt Damon's interview in the most recent issue of GQ contained this little nugget about what he and Ben Affleck did with their first big paycheck: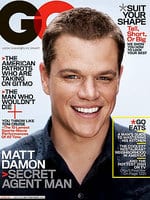 "We both bought Jeep Grand Cherokees. It was funny, because Ben and I, we both always wanted a Jeep Grand Cherokee for some reason. That was the car. We always talked about it but never could afford one. So when we suddenly had the money, we each instantly started trying to convince each other to get a different car. We'd say, 'Hey, have you seen the Explorer? The Ford Explorer is really cool.' Because we knew it would just be so gay to get the same car."
And a gay car at that.
You may have missed…
Gay Cars: A Closer Inspection [tr]
Matt Damon's Wet 'n' Wild Initiation Ceremony [tr]