Two gay men were ambushed and assaulted as they embraced after leaving The Cage nightclub in Hoboken, New Jersey, the Jersey Journal reports: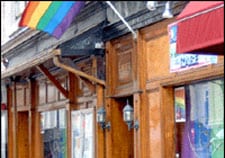 "The attackers started punching and kicking the men, yelling anti-gay, derogatory names, said Capt. Anthony Romano of the Hoboken police. 'They hit the two gentlemen because they were gay,' Romano said. 'They punched them and kicked them while they were on the ground, kicking them to the head. They (the victims) were scared.' The two men who were attacked were treated at Hoboken University Hospital, for scrapes and bruises, said police. The man who was kicked in the head had a contusion on his head, said police."
The two attackers were arrested after being held by bouncers from a nearby nightclub who witnessed the assault, the paper reports. Police took them into custody and charged them with assault and bias intimidation.
Added Romano: "It's a tragic crime and the Hoboken Police Department will not tolerate this kind of behavior. It's an aberration in this town, luckily, but no one should be put upon for this kind of thing."
2 gay men attacked in Hoboken [the jersey journal]