The NYT today reports on the anti-gay patrols that recently began around the chapel in Moscow's Ilyinsky Park that I posted about back in mid-June. The chapel and the park around it have a reputation as gay meeting places.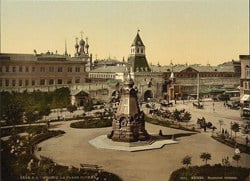 The paper talks to Igor S. Kon, a Russian sociologist, who says that the patrols, whose activities have expanded in recent weeks to being ethnic minorities under their hateful umbrella, are a "litmus test" for a broader ultranationist trend in Russia.
They report: "To the patrol's supporters, the gay men who frequent the park are the aggressors. 'The sexual minorities have occupied territory,' said Larisa O. Pavlova, a member of a local parents' association. She suggested that the area around the monument had become a site not only for gay cruising, but also for prostitution and drug dealing. 'The place where our kids used to stroll is now home to all kinds of vulgar acts,' she said. The Orthodox youth group has disavowed using force to remove gay men from the park, and claims to be the victim of several violent attacks near the monument. In one incident, someone fired on the patrol group with an air gun, hitting a person in the neck, several witnesses said. Though the police refused to comment, several members of the patrol accused gay people of organizing an intimidation campaign. Whatever the truth of the accusations, more outspoken groups have set up an unofficial protection service for the Georgiyevtsy, and on most nights, young men with shaved heads and army boots now greatly outnumber the patrol's founders. As their movement grows, so does the specter of more violence."
It's certainly a ticking time bomb, one which Moscow authorities don't appear to have any interest in defusing.
A Clash of Cultures at a Square in Moscow [nyt]
You may have missed…
Orthodox Russians to Patrol Known Moscow Gay Cruising Area [tr]
Russian Activists Detained at Demonstration Against Moscow Mayor [tr]