"Pro-family" groups are declaring that a petition drive to collect signatures in order to suspend two gay rights measures from taking effect as scheduled on January 1st, 2008 is enjoying "awesome" success.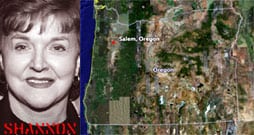 Last April, the Oregon legislature passed not only a sweeping domestic partners bill that would give same-sex couples in the state all the rights enjoyed by heterosexual couples (aside from the "marriage" name), but it also passed an important employment, housing, and public accomodations non-discrimination bill.
Almost immediately, a group called Defense of Family and Marriage Again, spearheaded by former senator Marilyn Shannon, began a drive to overturn the bills. Said a spokesperson for the group: "We've got 15,000 petitions out there and we're printing more. I'm willing to predict that Oregonians will vote on this in 2008."
Should the group collect 55,179 signatures by Sept. 26, the gay rights measures will be halted from going into effect and placed for a vote on the November 2008 ballot.
OregonLive reports: "The executive director of the state's largest gay rights group, Basic Rights Oregon, said it appears that opponents will be able to round up enough signatures to keep the two laws on hold until next year's general election. 'It's unfortunate that a small group of people don't agree with basic fairness,' John Hummel said Thursday. However, Hummel predicted that gay rights supporters ultimately would prevail if the issues are placed before Oregon voters next year, since polls have shown a growing number of Oregonians back the two laws."