George W. bush tries to eliminate the $420 million federal subsidy for the Corporation for Public Broadcasting. House rejects his bid by a vote of 357-72.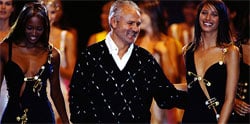 The NYT' Cathy Horyn recalls the days surrounding the Versace murder: "Ten years on, I asked [publicist Ed] Filipowski what stands out in his mind from that week. He and his partner, Julie Mannion, were inside the house the whole time, and Ms. Mannion had stayed with Versace's body in the morgue, at his sister's request, until she and her brother Santo could arrive from Italy. Mr. Filipowski thought for a moment and said: 'How personal and private they kept everything — that's what I remember. With everything that was going on outside. It was: 'Our brother is dead.""

Bonding: John Travolta's dance with 007.

Was NYC's steam explosion caused by human error? "CBS 2 HD learned that on June 10th, Con Edison was doing work at the very corner of 41st Street and Lexington Avenue where the explosion occurred. Crews were called to replace an eight-inch section of steam pipe that had sprung a leak."

Rockstar's Bully videogame coming to the Wii.

Good Morning Baltimore: Hairspray hits its home town.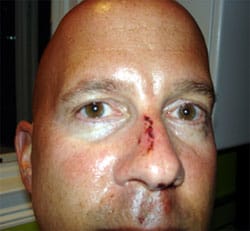 Gay Boston DJ Barry Scott brutalized as police attack, claiming DJ "incited a riot" among partygoers following the officers' arrival on a noise complaint. Lawyer: "What it was motivated by was clearly rage that was out of control, and virtually every witness that I've interviewed thus far would confirm and corroborate that. This officer and his companion acted out of complete rage." More here and here.

Is this really artist Jenny Holzer's "Twitter" account?

Hillary Clinton cancels West Virginia campaign appearances at gay businesses, citing logistical problems.

Tom Cruise and Katie Holmes, Will Smith and Jada Pinkett Smith to host "Welcome to L.A." party for the Beckhams at L.A.'s Museum of Contemporary Art this weekend.

Fire Island dance festival opens this weekend: "Fire Island Dance Festival 13, running this weekend, will feature six world premieries along with emcees Whoopi Goldberg, Michael McElroy and Phylicia Rashad. Battleworks Dance Company, CorbinDANCES, MOMIX, Tapaholics, Trey McIntyre Project and choreographer Darrel Grand Moultrie will each present a world premiere. Other performers include Alvin Ailey American Dance Theater, The Chase Brock Experience, Jorge Guzman & Willem De Vries, Pascal Rioult Dance Company and Travis Wall & Ivan Koumaev."

How Michael Jackson might look today without all the plastic surgery.