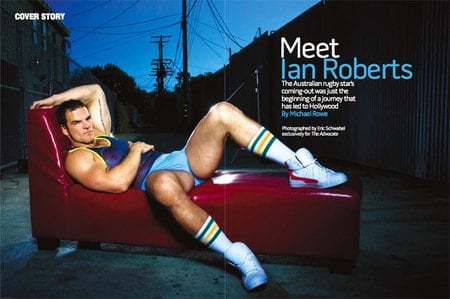 Gay rugby icon-turned-actor Ian Roberts is looking fantastic in the pages of the upcoming "Sex" issue of The Advocate, where he's featured in a cover story.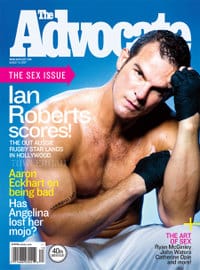 Roberts discusses the difficulties of breaking into Hollywood, and goes into great detail about his recently-wrapped up involvement in trials surrounding the murder of gay teen Arron Light, which I've posted about here extensively.
Roberts also discusses his coming out in 1995, which was prompted by a "degrading" article in an Australian tabloid:
"I enjoyed the actual moment. It was empowering to be out. All the confusion that had been part of my life suddenly vanished. When the whole world knew I was gay, I wasn't angry anymore. It's a whole clash about what it means to be a man, about masculinity. People would say, 'You must be the exception to the rule [of what gay men are like]. You don't swish around, you're not a cross-dresser.'"
Also noted is the strategy he used when fans would shout "faggot" or "cocksucker" from the stands. He'd return the slurs with a wink, or something more direct:
"If anything, I took it as a compliment. If they were, by any chance, cute, I'd give them a cute kiss at some point during the game. It became a rugby league story—if you got kissed by me on the field, you weren't half bad to look at."
The issue hits newsstands on July 17th.
You may have missed…
Ian Roberts Cleared of Assaulting Ex-Boyfriend [tr]
'Big, cuddly softie' Ian Roberts in Court on Assault Charge [tr]
Ian Roberts Testifies About Murdered Friend [tr]
Gay Rugby Icon Ian Roberts in Superman Returns [tr]
Gay Rugby Icon Ian Roberts Testifies About Abuse [tr]