Police in Scottsdale, Arizona are looking into a homophobic assault on a 27-year-old Phoenix man. The Arizona Republic reports on the attack, which took place in the early hours of the morning on July 16th: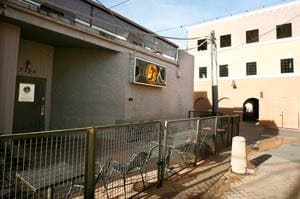 "After leaving BS West, a downtown Scottsdale bar, Gearing and a friend stopped in a parking garage to hug goodbye. Two men came running toward them, screaming sexual slurs at them, as Gearing jumped into his car. When Gearing drove toward the men, one of them kicked in the passenger side of his car. The other slammed his fist through the back windshield of his Ford Focus. That same man raced around the car and, with his bloody fist, punched him in the jaw through the open driver's side window. 'I thought this guy must be hurt and wouldn't keep coming after me,' Gearing said. Injured, Gearing ran after the men, still talking to the 9-1-1 dispatcher on his cell phone. As he ran, he said he told the men he had a gun 'so they wouldn't attack me again.' On the tape he says, 'I'm going to shoot him,' but insists he was talking to his assailants, and not the dispatcher. When the dispatcher questioned him about the gun, he told her he had lied. Gearing said at first he did not want to tell his story, but said he was 'more mad than sad,' and hoped his ordeal 'would get others to speak out.'"
Gearing reportedly had a distressed, curse-filled altercation with the dispatcher, for which he has since apologized, according to the East Valley Tribune. Said Gearing: "She went above and beyond to stay calm and do her job right."
Gearing has met with representatives from the Scottsdale Human Rights Commission and gay-rights group Equity Arizona.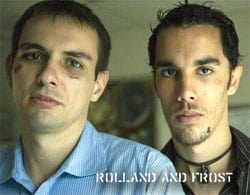 This is Scottsdale's second anti-gay attack in recent months. In December, I posted about a violent assault on Jean Rolland, 28, and Andrew Frost, 19, outside Frasher's Steakhouse. Seven man ambushed the couple as they held hands, exiting the restaurant. Restaurant employees did not report seeing anything go on outside the restaurant, though Frost sustained head injuries and blacked out during the attack.
Said Frost at the time: "It was creepy to me. I could see the bone in my jaw through one gash. I had blood pouring out of me and I actually blacked out at one point."
Rolland added, "My only hope is that they're going to brag about it and tell their friends how tough they were. How tough is it to use seven guys to take on two guys, including one 19-year-old who weighs 120 pounds?"
The December attack, unfortunately, remains unsolved.
Scottsdale police probe new hate crime [east valley tribune]
Anti-gay bias in Scottsdale? Beating revives debate [arizona republic]
You may have missed…
Gay Couple Attacked Outside Scottsdale Steak House [tr]