Surgeon General nominee Dr. James Holsinger was questioned at a Senate confirmation hearing today about the 1991 paper he wrote on health and homosexuality in which he warned of "the dangers of 'anal eroticism'".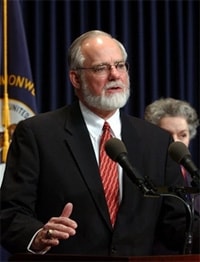 Wrote Holsinger in the paper: "In fact, the logical complementarity of the human sexes has been so recognized in our culture that it has entered our vocabulary in the form of naming various pipe fittings either the male fitting or the female fitting depending upon which one interlocks within the other. When the complementarity of the sexes is breached, injuries and diseases may occur…" (The full document is available here)
Senator Edward Kennedy told the panel: "Dr. Holsinger's paper is ideological and decidedly not an accurate analysis of the science then available on homosexuality. Dr. Holsinger's paper cherry picks and misuses data to support his thesis that homosexuality is unhealthy and unnatural."
According to the Associated Press, Holsinger said the paper was non-scientific and "relied on the information available to him at the time." Said the candidate: "First of all, the paper does not represent where I am today. It does not represent who I am today. I've worked diligently to provide quality health care to everyone regardless of personal characteristics including sexual orientation."
He added: I don't think there is a place in my life as a physician to do anything inimical [to a person based on their personal or sexual characteristics]…Let me be clear: I have profound respect for the essential human dignity of all people, regardless of background or sexual orientation. I pledge to you to continue that commitment especially if I am confirmed as surgeon general."
Following claims this week by Dr. Richard Carmona, the former surgeon general, that the Bush administration muzzled him on key issues in which his statements might affect policy, Holsinger told the panel that he would not allow politics to trump science.
Said Holsinger: "I think I have a clear response to that. I would resign."
you may have missed…
Surgeon General Nominee Holsinger Has Broad Anti-gay Bias [tr]
As Holsinger is Scrutinized, Former Top Doc Says White House Muzzled Him [tr]