Anti-gay marriage advocates in Massachusetts announce they won't attempt to get a proposed amendment banning gay marriage on the ballot in 2010.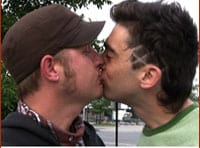 Kiss-in at Ottawa, Canada restaurant restaurant results in apology from owner: "Adam Graham and Phillip Banks were sitting on the patio of Mexicali Rosa's at Dow's Lake, enjoying a few beers and gently kissing. The weather was bad, so the two were alone on the patio. 'This guy comes up to us, out of the blue, and he awkwardly says 'there are children inside and they have questions',' says Graham. It was the restaurant manager, and he asked the two to 'cool it down or leave.' According to Graham, the manager said he would tell any 'normal' couple to do the same."

Scientists stop progression, reverse Alzheimer's Disease in mice: "The treatment is a protein, specifically designed for the job, based on the three-dimensional structure of two other proteins involved in the progression of the disease. It works by sticking to one of these proteins so that it cannot bind with the other – a step that triggers a succession of biochemical events that lead to the death of the nerve cell and ultimately to the patient's symptoms."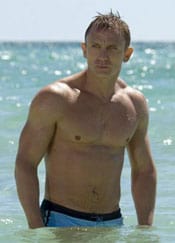 Daniel Craig inks £13 million Bond deal to become Britain's highest-paid actor.

FLASHBACK: The tunes of Tammy Faye.

Kylie Minogue choosing cover as first single off new album — either Culture Club's "Victims" or Roxy Music's "Love is the Drug".

Spanish judge faces disciplinary action after stripping mother of custody of her two daughters because she is a lesbian: "The judge in the south-east region of Murcia handed the girls over to their father's care, arguing that a homosexual environment threatened their education and upbringing. The decision has provoked outrage among Spain's gay community, and the Supreme Court has opened disciplinary proceedings against him."

Gay porn clip on Conan O'Brien used without studio's permission.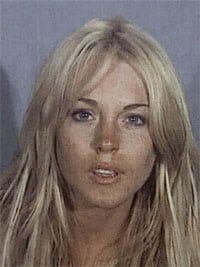 Huh? Lindsay Lohan arrested for driving under the influence, driving on a suspended license, and possession of cocaine. Her second DUI arrest within three months.

25%: Bush approval rating hits new low in American Research Group poll.

Before being arrested at a sit-in at Rep. John Conyers office, anti-war activist Cindy Sheehan announced she'll run against Nancy Pelosi in the 2008 Congressional election: "The Democrats will not hold this administration accountable so we have to hold them accountable, and I for one will step up to the plate and run against Nancy Pelosi."

Qantas Airlines' new kangaroo logo scrutinized: "Fat and pregnant, and a bit like a wombat."

New York Times Michele McNally F-bomb brouhaha widens as gays at the paper demand action: "A Times source tells us that assistant managing editor Bill Schmidt, who's in charge of newsroom administration, will hold an open meeting with the gay caucus tomorrow at 2:30. Steve Reed, the head of the gay caucus, e-mailed members to announce the meeting and that Schmidt will "be unable to discuss in detail the specific case we've been talking about, because it's a personnel matter."