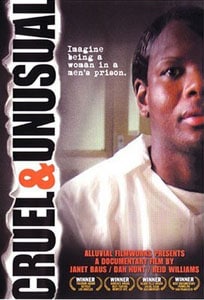 WE tv stopped showing "Dharma & Greg" reruns the other night long enough to air "Cruel & Unusual," the groundbreaking and award-winning documentary that chronicles the lives of five transgender women incarcerated in men's prisons across the United States. A moving and frequently horrifying piece of work, the film not only raises awareness about the abuse, isolation and poor medical care faced by transgender prisoners, it puts a face on the problem. (All of the women have been on hormones for many years but are pre-operative. As one official put it, the prison into which a person is placed is based on genitals, not gender identity.)
Orphelia De'Lonta was given a 67-year sentence for a bank robbery she commited at 17 (with an unloaded gun) and has endured years of abuse in prison, yet she always has a warm smile on her face and the disposition of a Southern belle. Orphelia sued the commonwealth of Virginia for not allowing her to continue taking hormones and other treatment for her gender identity disorder while in prison.
Ashley (pictured right) calls herself "a good girl gone bad" who got caught up in making a quick buck (forgery and credit card fraud got her 25 years in Arkansas, with a chance at parole after four years). Ashley tells about what happened to her when the rumor spread around the prison that she had a vagina. Rather than getting her protection, the warden called her into his office and made her strip and put on a display for him. That was just the beginning of her problems.
Anna Connelly was abused for years in a Florida minimum security prison and then was threatened with her life when she finally reported it. We see Anna post-prison as she tries to reconnect with her son, to whom she was very close prior to her incarceration. (Linda Thompson and Yolanda Valentin, pictured below, are also profiled.)
I believe WE was slated to only air this once, so if you missed it be sure to check it out on DVD. Decide for yourself if putting omeone who considers herself to be a woman into a men's prison is indeed cruel and unusual punishment.