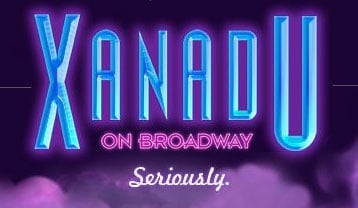 Went to see "Xanadu" last night on Broadway, at the invitation of one of its producers. I don't go to a lot of theater and I'm especially not a fan of musicals per se (so this is not a review), but I have to tell you that I had the funnest time (as did my bf, Michael.) I'm as white with rage as the next guy about film, television and Broadway having no new ideas, but the reason this one works is because it's a Broadway show of a horrible movie that needed improvement — or at least to not take itself so seriously. (Look at the show's tagline — they're not taking this seriously.) I couldn't tell you what the 1980 film was "about," but the play "tells the story of one of the nine muses of ancient Greece who comes to earth to inspire the greatest of artistic achievements — a roller disco. Along the way she falls in love, bumps into an old acquaintance and for the first time, feels the desire to create herself."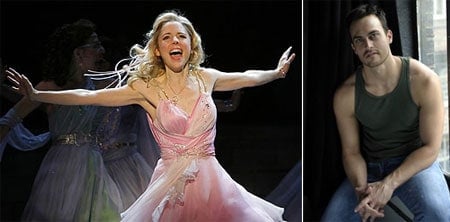 The wonderful Kerry Butler (who played Penny Pingleton in "Hairspray") captures the spirit of Olivia Newton-John with a loving wink on the barbie (her Aussie accent had me in stitches every time she turned it up). And what do you need to know about Cheyenne Jackson — the strapping "All Shook Up" star who stepped in for the recuperating James Carpinello? He's big, strong and very handsome — and watching the guy pran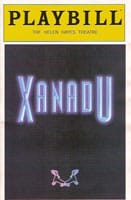 ce around in denim cutoffs straight out of 1980 was hardly anything to complain about. Oh, and he can sing and act,
The show is wisely performed without an intermission (no need to drag things out or lose momentum), and features the songs "I'm Alive," "Magic," "Evil Woman," "Suddenly," "Whenever You're Away From Me," "Dancin'," "Strange Music," "All Over the World," "Don't Walk Away," "Fool," "The Fall," "Suspended in Time," "Have You Never Been Mellow?" and "Xanadu." Truth be told, "Xanadu" is arguably one of the best movie soundtracks to come from a horrendous film, so there's no shortage of fantastic songs here. If there hadn't been so many great singles on this album (four of the 10 songs were Top 20 hits), "Suspended in Time" for ONJ and "Don't Walk Away" for ELO could have been a huge hits too. (These two really jump out at the show.)
"Xanadu" is still in previews and will officially open July 10. The limited audience — the evil muse in the play summed it up brilliantly when she described the action onstage as "children's theater for 40-year-old gay men" — has me thinking this one won't be around long. And even though the Helen Hayes Theatre (where Merv Griffin used to tape) is small and intimate, this camp-fest of a show still clearly belongs way off Broadway (they certainly didn't spend much on those sets!).
So, again, this is not a review. But if you're a 40-year-old gay man who's looking for a fun night out, go see "Xanadu" — and go quickly. (Seriously)
P.S. And in one of those "only in New York" moments, my old downstairs neighbor Marty Thomas came flying out on skates during the last few minutes in a role described as "a Featured Skater." (Who knew?)