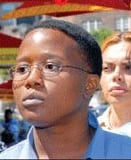 Dude Lady Looks Like a Lady Dude? Here's Khaduah Farmer, the lesbian who was ejected from a Greenwich Village restaurant because the bouncer thought she was a man using the women's bathroom. Confused in Kansas? Maybe. In the Village — on Gay Pride Sunday, no less? I don't think so.

Teen Convicted: A 17-year-old man who brutally beat a transsexual, 39, after discovering during sex that she had a penis was convicted of aggravated battery in Palm Beach County Juvenile Court, but not of a hate crime, the Miami Herald reported. Names of victim and perpetrator are being withheld. A police officer told the court that the teenager beat the transsexual until his hands were sore, took a break, and then returned to the beach where he had left her to punch her some more and slam her head into a lifeguard stand.

Law Firm Confidential: From the earliest stages of Aaron Charney v. Sullivan & Cromwell (Charney claims sexual orientation discrimination and retaliation led to his termination from his former law-firm employer), "S&C has shown great concern over public exposure of its inner workings, and its firing of Charney and its countersuit against him were premised largely on the publicity campaign he waged when he filed the lawsuit, particularly his leaking of documents to The Wall Street Journal that were mentioned in an embarrassing article about morale problems at the firm. By getting Charney's agreement to and the judge's approval of the confidentiality stipulation, S&C may succeed in keeping the bloggers and the press from access to the kind of materials that it successfully labored to get removed from Charney's original complaint." (What fun is that?)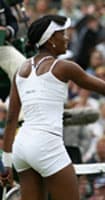 Lucky Drawers: Why is Venus Williams wearing boxerbriefs at Wimbledon?

The Italian Job: Who wants porn pizza?

Drama Queen: New York Times columnist Frank Rich discusses his new book, "The Greatest Story Ever Sold" with the gay press.

Diamond Life: A jewelry manufacturer in Queens, N.Y., may appeal to the state's highest court after a judge ordered him to testify whether he thinks gays are "repulsive" and "doomed to eternal damnation."

The Parental Life: A baby for Nicole Richie and Good Charlotte frontman Joel Madden?

Breaking the Habit: Women interested in setting up a lesbian-only rest home in Wellington, New Zealand, will hold meetings in the city next month to gauge support.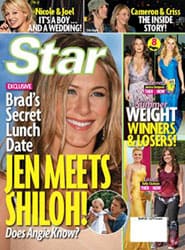 When Jen met Shiloh: Are Brad and Jen secretly meeting so Jen can "meet" Shiloh? Probably not. But that doesn't stop Star magazine from writing a frontpage article about it. Stay tuned for a Photoshopped pictorial next week.

Divine Intervention: John Travolta wants gay rights activists to know that they needn't boycott "Hairspray" because "there's nothing gay in it." He does know he's in it though, right?

Neverland East: Is Michael Jackson looking for a home on the Chesapeake Bay?

!Escandalo! Spanish-language broadcaster Telemundo placed newscaster Mirthala Salinas on paid leave Thursday while it carries out an investigation into whether she breached journalistic ethics by having a relationship with someone she covered: Mayor Antonio Villaraigosa.

The BJ That Keeps Giving: Hugh Grant put Divine Brown's kids through college.

Science Fiction: The "Star Trek" episode that dares to go where no other "Star Trek" episode has gone before.

RIP: The last living original member of the Drifters, Bill Pinkney, died Wednesday at 81. May he rest in peace knowing that he and his bandmates' legacy — classic songs like "Save the Last Dance for Me," "Under the Boardwalk" and "Up On the Roof" — lives on forever.