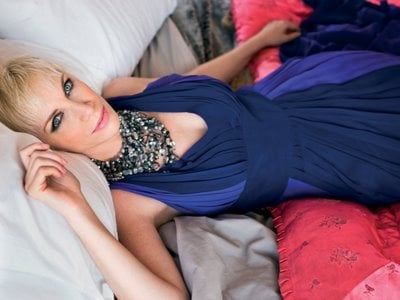 Please welcome Robbie Daw, who will be penning occasional music posts for us here on Towleroad! Robbie runs his own pop music site called Chart Rigger.
Though she's one of popular music's most iconic figures, Annie Lennox is gearing up to release only the fourth album of her 15-year solo career. Songs Of Mass Destruction is out October 1 throughout most of the world, and a day later in the U.S.
The video for the first single, "Dark Road," just found its way online yesterday.
Also, the album track "Sing" has leaked. "Sing" features a bevy of female guest vocalists, including Madonna, Céline Dion, Pink, Melissa Etheridge, Fergie, Beth Gibbons, Faith Hill, Angelique Kidjo, Beverley Knight, Gladys Knight, k.d. lang, Sarah McLachlan, Beth Orton, Bonnie Raitt, Shakira, Shingai Shoniwa, Joss Stone, Sugababes, KT Tunstall, and Martha Wainwright. Lennox was inspired to record the song after being involved with Nelson Mandela's Treatment Action Campaign, which fights to protect human rights and promote education for those affected by the HIV virus.
Songs Of Mass Destruction features production by Glen Ballard, who is perhaps most famous for twiddling the knobs on Alanis Morissette's Jagged Little Pill and, more importantly, Wilson Phillips' self-titled debut.


As we read last week, Kanye West is still waxing philosophical about homophobia within the hip-hop community. Meanwhile, some other folks seem a bit preoccupied with the sunglasses he's been sporting lately — particularly in the video for "Stronger," his latest single that's built around a sample of Daft Punk's "Harder, Better, Faster, Stronger." In fact, there's even an entire thread devoted to the topic in the forum at AllHipHop.com, where one member incitefully wrote, "GAYEST THREAD EVER!!!!!!!!"
As it turns out West's shades were designed by Jeremy Scott, whose pop star clientele also includes Fischerspooner, Kylie Minogue, Björk and Madonna.
Elsewhere, "Stronger" unseated Robyn's "With Every Heartbeat" to become the #1 U.K. single this week.

Recent American Idol winner Jordin Sparks has a new single, "Tattoo," hitting radio on Monday, though traditionally Top 40 stations have been lukewarm about embracing the winners of the FOX reality show. The New York Post reports that Sparks' album will be out in November, after having inked a deal with 19 Recordings/Jive. The previous five Idol winners had all been signed to RCA.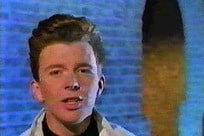 TREND ALERT: AOL reported on it, Urban Dictionary has multiple entries for it, but if you haven't yet been "Rick rolled," hold on to your coiffed locks, because the wait is finally over. Rick rolling is essentially the process by which you email a pal, tell them they simply have to check out a crazy new video file of Lindsay Lohan yacking up her lunch in the checkout line at Fred Segal, then actually send them a link to '80s blue-eyed soul crooner Rick Astley's #1 hit from 1987, "Never Gonna Give You Up." Yeah, I don't get it, either, but in the midst of all this, one thought came to mind: just how many times did Stock Aitken Waterman cart their artists through that chintzy set for a video shoot?
Did Jason Donovan complain when he got Rick rolled under the same arches for "When You Come Back To Me"? Did Big Fun wave chiding fingers after shooting "Handful Of Promises"? (Actually, it may have been a different set for the latter, but it's easy to get distracted while watching, arguably, the gayest video ever.)

NEWS BITES: Madonna to leave Warner Music after 25 years?
One Céline Dion fan reports from the "freaking amazing" album preview focus group.
Morrissey shacks up in New York, Los Angeles and San Francisco for six weeks.
Dr. Dre sues former label Death Row over The Chronic.
Donald Trump calls Britney Spears "a f***ing mess." Then he offers her a job.
Sheryl Crow, Avril Lavigne and Fiona Apple work themselves into a Girlfrenzy.
After the jump, The Feeling's Dan Gillespie-Sells, Ari Gold and the today's new releases.

In England, Dan Gillespie-Sells, The Feeling's openly-gay frontman, made a dapper appearance at Virgin's V Festival over the weekend…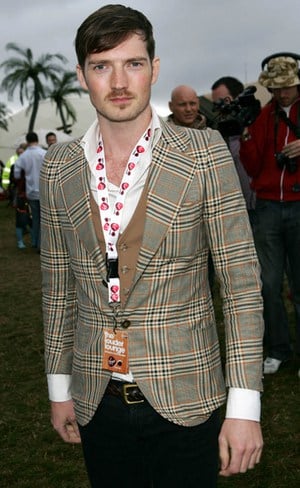 …while across the pond, Ari Gold performed at here lounge in West Hollywood.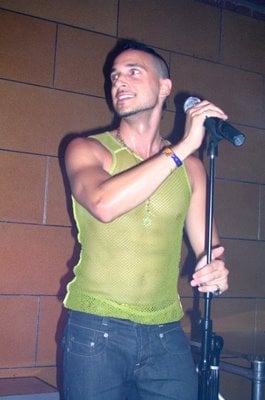 During his set, Ari performed his new single, "Where The Music Takes You." His new album Transport Systems will be released October 2.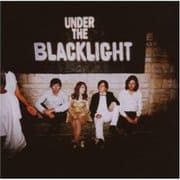 TODAY'S NEW RELEASES: Former Savage Garden singer Darren Hayes' third solo album, the two-disc This Delicate Thing We've Made, featuring production by Justin Shave.
Brooklyn-based rapper Talib Kweli's Eardrum, featuring guests Norah Jones and UKG, with production by Kanye West and will.i.am.
Rilo Kiley's fourth album, Under The Blacklight. It's also the indie band's debut on Warner Bros.
Kala, the sophomore album from London-based Sri Lankan artist M.I.A.
Country singer Travis Tritt's The Storm, featuring tracks co-written by Rob Thomas, Richard Marx and Diane Warren.