Florida Representative Bob Allen, who was arrested for solicitation in after offering an undercover police officer $20 for the opportunity to perform oral sex, is scheduled to speak to the the North Brevard Branch of the NAACP at its August general membership meeting tonight.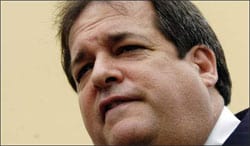 Florida Today reports: "According to the NAACP news release, Allen will discuss legislation passed in 2007 as well as property tax reform, PIP auto insurance legislation and the property tax cap amendment."
No word on whether or not Allen will discuss his fear of black men in public parks, the explanation he offered as to why he was hanging out in a public restroom.
Over the weekend, Allen's lawyer requested that the charges against Allen be dismissed because he claims he was never read his Miranda rights. A hearing is scheduled for Friday.