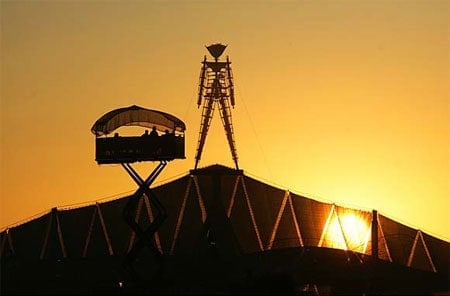 The 40-ft Burning Man sculpture, normally set ablaze at the climactic moment in the Labor Day festival of the same name at Black Rock City in the Nevada desert, was lit by an arsonist early Tuesday morning, according to the San Francisco Chronicle:
"Paul Addis, 35, of San Francisco, was booked into the Pershing County Jail in Nevada on the arson charge and misdemeanor possession of fireworks, Sheriff Ron Skinner said. Festival organizers, meanwhile, pondered the smoldering remains of the Man and promised to rebuild the big guy in time for Saturday's regularly scheduled burn in the Black Rock Desert north of Reno."
40,000 are expected this weekend but some arrived early, according to the paper, to view last night's lunar eclipse. The annual burning of the sculpture is viewed as a symbolic cathartic event meant to represent the self-expression and art that are the festival's hallmark.
Said one volunteer to the Chronicle: "Someone went to a great extent to interfere with everyone else's burn. I think, frankly, an attention whore has made a plea for attention. In three days, we will have this rebuilt."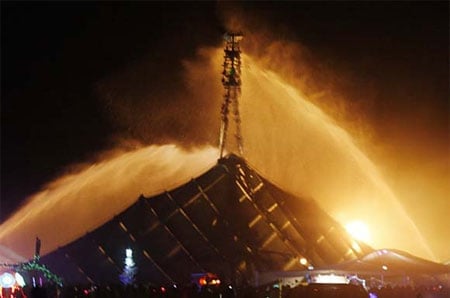 Burning Man's icon goes up in flames, 4 days prematurely [sf chronicle]
Burning Man Set on Fire Early Due to Arson [laughing squid]