Indianapolis Colts coach and Super Bowl winner Tony Dungy has been asked to serve on President Bush's Council on Service and Civic Participation, according to reports: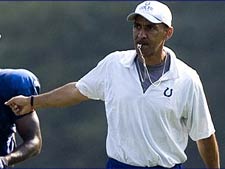 "The 25-member council represents leaders from government, business, entertainment, athletics and non-profit organizations committed to growing the spirit of service and civic participation."
Dungy: "I had heard it was in the mix for a while, and it's just an honor. It's something we always talk about here with our team, about serving your community and being part of the community and trying to make things better. To be appointed by the President is obviously a once-in-a-lifetime type thrill. We talked a little bit about it and they called and asked if I'd be willing to serve. Of course, you would. I didn't know how it all had to transpire. Apparently, they had to do some (background) checking and that kind of thing."
Apparently passed muster for all the work he did last March raising money for anti-gay hate groups in Indiana.