Broadway World reports that Mike Nichols may be directing Jake Gyllenhaal in Beau Willimon's political drama Farragut North on Broadway a little over a year from now.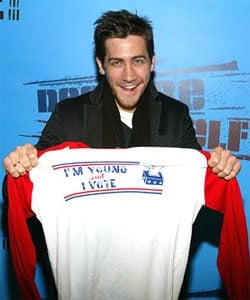 "Nichols takes over directorial reins from James Lapine, who helmed the reading. Oscar-nominee Gyllenhaal (Brokeback Mountain, Donnie Darko), if confirmed to star, would play 'an idealistic young press secretary who works for a Howard Dean-like presidential contender.' Willimon worked on Dean's 2004 campaign. The production will open next fall, around the time of the 2008 election."
In June, the New York Post reported on a reading staged by Lapine: "Gyllenhaal, who received an Oscar nomination for his role in 'Brokeback Mountain,' took part in a hush-hush reading last week of Beau Willimon's 'Farragut North.' The actor played a young, idealistic communications director who works for an inspiring, though unorthodox, presidential candidate. During the campaign, his career is done in by more seasoned politicos who thrive on poisonous partisan politics, dirty tricks and back-stabbing."
Farragut North is the name of a metro station serving downtown Washington, DC.
You may have missed…
Jake Gyllenhaal Considering Political Play [tr]