Hillary Clinton and Barack Obama entering cold war: "They work in the same building. They slog through the same rigorous travel schedule. Along the way, they often cross paths several times a day. But Senators Hillary Rodham Clinton and Barack Obama have barely spoken to each other — at least in any meaningful way — for months. The tension between the two Democratic presidential hopefuls, which has spilled into public view in the last three weeks, has been intensifying since January. It is clear that the genteel decorum of the Senate has given way to the go-for-the-jugular instinct of the campaign trail."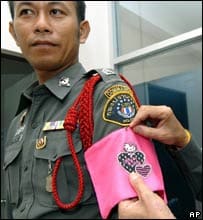 Bangkok, Thailand police chiefs implement new method of punishment for officers who break the rules: a Hello Kitty armband. Official: "This is to help build discipline. We should not let small offences go unnoticed. Guilty officers will be made to wear the armbands in the office for a few days, with instructions not to disclose their offences. Let people guess what they have done."

Lindsay Lohan attempts to pull her life back together in Utah, with little old ladies, apparently.

Bourne investment: Matt Damon offers the best box-office return on his salary.

Chris Rovzar on this Thursday's 'gay debate': "…what's important about the Human Rights Campaign-sponsored debate is its mere occurrence. If the Dems are confident enough to tackle gay issues head-on for a full hour, it means they're no longer worried that the Republicans will throw it back in their faces. They're not afraid, and more importantly, they're betting voters aren't afraid either."

Hairspray producers Zadan and Meron developing Peter Pan for TV.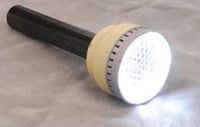 Department of Homeland Security developing flashlight that causes you to vomit: "The flashes incapacitate a person in two different ways, says Robert Lieberman, CEO of Intelligent Optical Systems, based in Torrance, CA, which is making the device. The flashes temporarily blind a person, as any bright light would, and the light pulses, which quickly change both in color and duration, also cause what Lieberman calls psychophysical effects. These effects, whose effectiveness depends on the person, range from disorientation to vertigo to nausea, and they wear off in a few minutes."

Big Brother 8 fans: Amber is a bigot.

Gwyneth Paltrow or Romanian, twinkie, super-bottom, gay porn star?

Physicists solve 'mystery' of levitation: "Their discovery could ultimately lead to frictionless micro-machines with moving parts that levitate But they say that, in principle at least, the same effect could be used to levitate bigger objects too, even a person."

Apple delivers new iMacs, iLife…

Arlington County, Virginia to allow 'ex-gay' groups to distribute material to students: "Parents and Friends of Ex-Gays and Gays, or P-FOX, sued school officials earlier this year in federal court, claiming that they improperly blocked their request to send out the fliers. School officials denied any discrimination. They said all outside groups are barred from distributing fliers at high schools, basically because students don't read them. A settlement, reached last week, states that P-FOX will have the same access given to other groups and can submit fliers for distribution to middle and elementary-school students if it wishes."

Archives reveal that Winston Churchill's cabinet discussed gays.