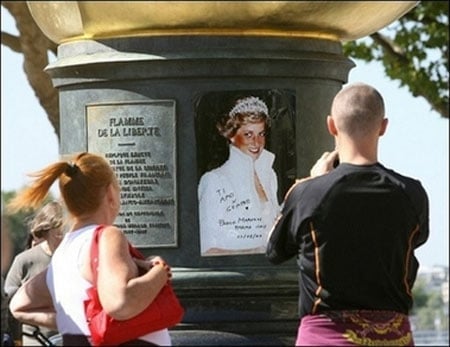 It's the 10th anniversary of Princess Diana's death tomorrow and the New York Times takes a look at the buzz and conspiracy theories that still surround the life of Diana:
"And people are still arguing, as they did in that odd, volatile time a decade ago, over Diana's significance, in life and in death. Was she a naïve innocent or a sophisticated schemer? Was Diana an extraordinary woman whose 'lifetime of service touched the lives of millions,' as Mr. Brown wrote over the weekend, or a'devious moron' desperate for attention, as the feminist author Germaine Greer recently described her?"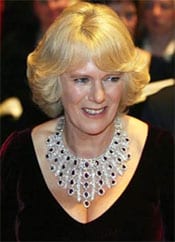 ABC News is looking at Who's In and Who's Out at the Diana Memorial Service. Camilla Parker-Bowles, once labeled "the Rottweiler" by Diana, opted out earlier this week: "I'm very touched to have been invited by Prince William and Prince Harry to attend the thanksgiving service for their mother, Diana, princess of Wales. I accepted and wanted to support them. However, on reflection, I believe my attendance could divert attention from the purpose of the occasion, which is to focus on the life and service of Diana."
The hour-long private service, being held tomorrow at the Guards Chapel opposite St James' Park, near Buckingham Palace, has been criticized because it is being billed as a "family event" but is being held in the center of London to the dismay of the hordes that haven't been invited to the service itself, or even to watch it televised. Some are saying that if it was to be a private affair it should have been held at Althorp.
Australia's The Age notes: "Britain will mark the 10th anniversary of Princess Diana's death today with a low-key service that has been criticised for excluding the public and exposing the royal family to the same bad publicity that dogged it at the time of the princess' death."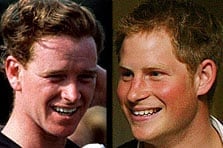 The conspiracy theories are out in full force. Among them are a forthcoming interview with Diana's "love rat" James Hewitt, who reportedly refuels the Prince Harry paternity speculation: "In an exclusive interview with A Current Affair's Tracy Grimshaw, to be broadcast tomorrow night, Hewitt tells of his last conversation with Diana, his dislike of the Royal family and the delicate question of Harry's paternity. His handling of the latter question — he has stormed out of interviews or issued flat denials in the past — marks a dramatic shift, and arouses fresh speculation he is the true father of Britain's youngest prince."
I ran across this video this morning, however, and it's probably the weirdest 'psychic' theory I've come across regarding the events of August 31, 1997 — that the work of Morrissey and The Smiths somehow foreshadowed Diana's tragic death in the Pont de l'Alma tunnel in Paris.
The Queen is dead, boys. And it's so lonely on a limb.