Six same-sex couples in Iowa in a lawsuit filed by Lambda Legal won a major victory on Thursday when a judge struck down a state law banning same-sex marriage.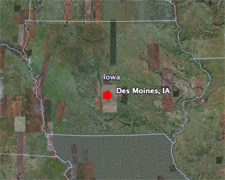 Wrote Judge Robert B. Hanson in the ruling: "This court has yet to hear any convincing argument as to how excluding same-sex couples from getting married promotes responsible reproduction in general or by different-sex couples in particular. So far as this court can tell (the law) operates only to harm same-sex couples and their children."
Lambda Legal has profiles of the six couples on their website.
Hanson ordered the Polk County Recorder's office to begin issuing marriage licenses to same-sex couples. The decision is expected to be appealed to the Iowa Supreme Court and foes of same-sex marriage are expected to push a Constitutional Amendment to voters as quickly as they can.
Still, a great day in the heartland.
Download the ruling (PDF) here.