Earthquakes strike Manchester's gay village: "It was the sixth earthquake to hit the city in the past month, all measuring between 1.4 and 2.5 magnitude. A swarm of 150 tremors occurred in the same area between October 2002 and January 2003. Seismologist Dr Brian Baptie of the British Geological Survey said: 'An earthquake of this magnitude is not unusual in the UK and you would not expect any structural damage as a result of this earthquake'."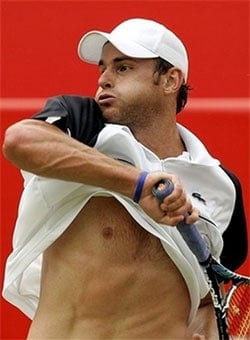 Match-fixing alleged in professional tennis: "Two elite players made the claims, under anonymity, in an interview with the French sports daily claiming they have witnessed matches being "thrown" and that they had personally been offered bribes…The unnamed sources in L'Equipe's report called on the sport's authorities to act, 'before things get out of hand'. 'I know several players who have been approached, and who had the exact same experience as me,' said one player, identified only as Mister B and who claimed he had been approached physically by someone offering him 50,000 dollars to lose a match. He added: 'Not for one second did I believe it was a joke. 50,000 dollars is more than what I would have got for getting to the semi-final in this tournament, and it was tax-free cash. 'I refused his offer straight away, but I was left wondering what direction we're going in.'"

Willa Ford joins Bobby Trendy in new film about Anna Nicole Smith – first shots.

Yesterday, the death knell was sounded for West Village bar Julius. Today, news that it has reopened, at least for now.

Lesbian couple are first in Colorado to adopt. "'People say, they need two parents. We say, they've got two parents,' says Jeannie DiClementi, who along with life partner Mary Ross, have become the first gay couple to adopt children together under a new state law. 'This is a victory for children.'"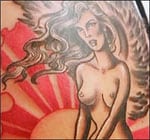 Jesse Metcalfe obtains topless female tattoo.

David Bowie to join UK TV series Dr Who as an evil alien abductor: "The singer who found fame as a cross-dressing glam rock star Ziggy Stardust in the 70s will cross swords with the Tardis's Time Lord, actor David Tennant when he kidnaps crime author Agatha Christie."

Lesbian is one of five finalists for bishop of the Episcopal Diocese of Chicago.

AfterElton talks to style guru Tim Gunn about his forthcoming show and his last relationship: "I had been in a relationship and a very intense one. And it broke up after quite a number of years. And it broke up abruptly – didn't break up from me. I was cast aside. And it was just, just at the advent of AIDS. And I found out he had been sleeping with a lot of people. And thank God I'm healthy. Because I didn't know and it had been going on for a while. So when we broke up, there the world of AIDS is spread out before me, and I thought 'I can't do this. I don't want to be selfish, but I care too much about my health'. And the person I loved more than myself had been cheating on me and lying to me. So if that person is doing it, what about total strangers? So I just got used to being alone, very used to it."

An interactive graph based on The World Without Us, Alan Weisman's gripping new book about what would happen to the Earth should humans disappear.

REPORT: Madonna to adopt second orphan from Malawi.

Secretary of State Condoleezza Rice tore a jewelry clerk to shreds, according to a new biography, after the clerk whispered something under her breath when Condi asked to see a nicer item: "Let's get one thing straight. You are behind the counter because you have to work for minimum wage. I'm on this side asking to see the good jewelry because I make considerably more.

Filmmaker documents the end of three gay British men in 1967: "The outline of their deaths is well documented. On February 3 1967, the independent record producer Joe Meek killed his landlady, Violet Shenton, before turning the shotgun on himself. On August 9, the hottest new British playwright of his generation, Joe Orton, was murdered by his companion, Kenneth Halliwell. On August 27, the body of the Beatles' manager Brian Epstein was found after an accidental overdose of a prescribed sleeping pill."