Fire Island, perhaps because of its distance from the mainland (a 25-minute ferry ride) and perhaps because of the sense of camaraderie that pervades the summer season, is not the sort of place where you hear about a lot of crime.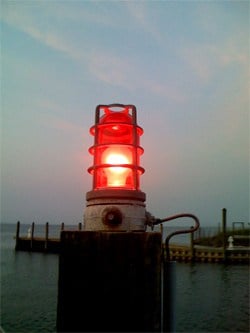 Sometimes houses are rented out for the summer to large groups of people. Because of this, properties are sometimes left unlocked for ease of entry during long weekends. Some housemates stay out late, while others head home early, etc. There's also a sense of trust that pervades the place (at least from my experience), and it's not often that you hear about incidents like the one that happened to a group of my friends last weekend.
And it happened while all 12 of the housemates were in the house, asleep.
At about 4:30 am on Sunday, someone entered the house, which had been left unlocked. The intruder then proceeded to enter each of the rooms where they were sleeping. The thief/thieves grabbed a backpack of clothes and filled it with nine cell phones, 4 wallets, six iPods, three cameras, and one laptop computer.
The total value of the items stolen was $7,600. Nobody saw a thing. And there were no outside guests in the house — nobody had gone out and brought a "friend" home for the night.
The police said that they had heard similar stories from Cherry Grove, but not the Pines, although there was a burglary reported during the recent Pines Party and another report of BlackBerrys being stolen from a house last weekend as well.
So, a piece of advice for those of you spending any time in the Pines for the remainder of the summer: be vigilant, and lock up your valuables.