Activist group Know Thy Neighbor plans to add Oregon to the list of states in which it's taking action. The group says it will publish names of those signing petitions to overturn gay rights bills passed in the state earlier this year, according to the Statesman Journal: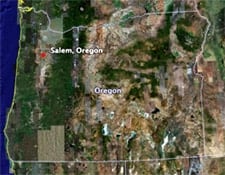 "A coalition of conservative Christians is circulating petitions to put the two measures before voters in the November 2008 election. That would enable Oregon voters to decide whether to grant marriage-style rights to same-sex couples via domestic partnerships, and whether to ban discrimination against gays, lesbians, bisexuals and transgendered people. Know Thy Neighbor pledged to launch a new Web site that will list the petition signers' names and addresses."
Know Thy Neighbor has already published names of those signing anti-gay legislation petitions in both Massachusetts and Florida.
Oregon passed a bill banning discrimination based on sexual orientation in housing, public accommodations, and employment, and a sweeping domestic partners bill last spring.
Foes of the measures initiated their petition drive shortly thereafter.