A survey meant to mark the six month anniversary of New Jersey's civil union law has revealed that voters in that state would most likely have no problem with the legislature upgrading the state's civil unions to "marriage" status: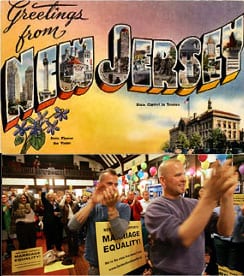 "The poll, released Wednesday, showed 63 percent of voters surveyed said they would not be upset if the Legislature upgraded civil unions to marriage equality, compared with 31 percent who would be upset. And some 72 percent said lawmakers would not jeopardize their re-election bids by enacting marriage equality, compared with 21 percent who felt such a vote could effect an incumbent's chances of remaining in the Legislature. Regardless of their personal beliefs, those polled believe New Jersey will allow gay couples to marry within a couple of years, by a margin of 61 percent to 29 percent."
Zogby polled 803 New Jersey voters.
Said Steven Goldstein, chairman of Garden State Equality, the group that commissioned the poll: "Regardless of whether any public official supports marriage equality or wants to maintain the state's failed civil unions law, no official in New Jersey can credibly say that marriage for gay couples is a divisive issue in the state. Even voters who oppose marriage equality are ready to accept an upgrade of the state's civil unions law to real marriage equality."
In other New Jersey news, the Ocean Township school district, which I told you last week had banned a production of The Laramie Project for being too provocative, has reinstated the production. The school district superintendent Thomas Pagano overturned the decision by principal Julia Davidow to stop the play from proceeding.
Poll: New Jerseyans favor gay marriage [newsday]
Recently
NJ Principal Deems Laramie Project Too Provocative [tr]
Judge Urges McGreeveys to Settle Alimony-Fueled Divorce Battle [tr]
UPS Decides to Deliver Civil Union Benefits to NJ Same-sex Couples [tr]