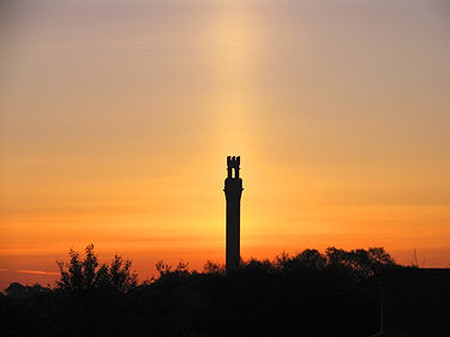 It's the most distinctive landmark in Provincetown. The 252-foot granite tower built to recognize the first landing of the Pilgrims in America had its cornerstone laid by President Theodore Roosevelt 100 years ago today.
According to the Cape Cod Times, "President Theodore Roosevelt arrived in the presidential yacht 'The Mayflower.' Eight battleships greeted the yacht in the harbor with a gun salute. Officials from the Grand Lodge of Masons arrived a little late — by train. It was their job — 100 men strong — to spread the cement onto the cornerstone with a special trowel, lower the 4,800 pound block of granite and declare it 'level, plumb, true and trusty,' according to monument records. The Monument, which is owned by the Cape Cod Pilgrim Memorial Association of Provincetown, cost about $95,000 in federal, state and local grants, and donations to build."
Senator John Kerry is expected to be on hand today when the occasion is celebrated with a parade and cannon salute.
Above photo is from a sequence of images I shot in 2004 as a sun pillar made its way across the sky early in the morning, briefly aligning itself with the monument.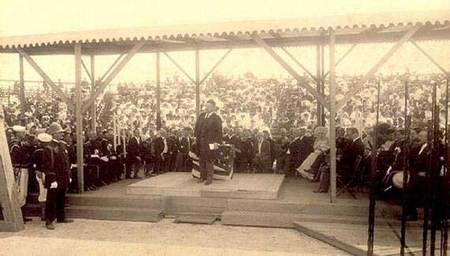 Provincetown's tower turns 100 [cape cod times]
Pilgrim Monument turns 100 [boston herald]