For all our Larry Craig coverage, click here.
Openly gay Rep. Barney Frank gave an interview to the Associated Press about Senator Larry Craig's guilty plea and his recent lewd conduct arrest in a Minneapolis airport restroom. Frank does not feel that Craig should resign.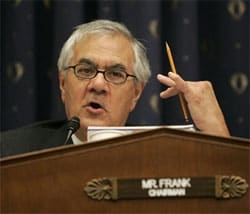 Said Frank: "What he did, it's hypocritical, but it's not an abuse of his office in the sense that he was taking money for corrupt votes. I think people should resign when they have clearly done the job in a way that is dishonest. It's one thing to say that someone can't be trusted to vote without being corrupt, it's another to say that he can't be trusted to go to the bathroom by himself….This is the hypocrisy — it's to deny legal equality to gay people, but then to engage in gay behavior."
Frank also called Craig's denial that he is guilty "implausible". Said Frank: He called Craig's denial "implausible," given the facts of the case. "The normal reaction if you are falsely accused is indignation, not submission, particularly if you are a senator."
Frank said it was unlikely Craig would have success in future elections: "Even gay men who have not been involved in this kind of public sex situation generally get forced out of Republican politics because of opposition within the Republican Party. This is unfortunate, but the fact that he's gay is going to be a problem in the Republican primary."
Yesterday, several of Craig's Republican colleagues put pressure on him to resign.