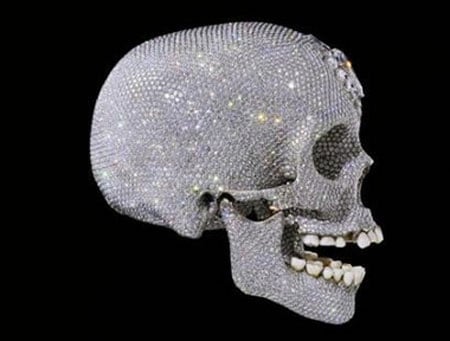 Damien Hirst's diamond-encrusted skull entitled "For the Love of God" has sold to an investment group for its full asking price of $100 million, it has been revealed. No additional details about the buyer were disclosed.
The platinum skull, which is covered with 8,601 diamonds weighing 1,106.18 carats, cost $20 million to make according to the artist. It was cast from a 35-year-old 18th century European man and contains its original teeth.
Said a spokeswoman for the artist: "Damien Hirst has retained a participation in the work — he still owns a share of it — in order that he can oversee a global tour of the work that is currently being planned." Hirst's manager said that he anticipated the sale would close within three to four weeks.
A pictorial on the making of the skull was published in July.
Background
Damien Hirst, The Bedazzler Revealed [tr]
$100 Million Damien Hirst Diamond-Encrusted Skull Unveiled [tr]