POLL: 55% in Idaho say Larry Craig should resign.

1955: The "homosexual underworld" of Boise, Idaho.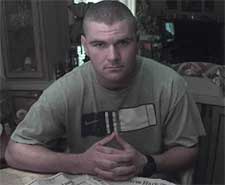 The Orlando "love triangle" deaths involving GOP consultant Ralph Gonzalez, may or may not be connected to the murder of gay porn producer Bryan Kocis. The possible connection? This man, ex-Marine Jason Drake, who allegedly killed the two Orlando-based consultants before killing himself.

Cuban leader Fidel Castro tips Clinton-Obama ticket to win election: "The word today is that an apparently unbeatable ticket could be Hillary for president and Obama as her running mate."

The Beckhams hit the beach in Malibu.

LROQ in Los Angeles spins "Lean Like a Homo": " The song is sung by an effeminate male, who raps about anal sex, poppers, and desiring actor Zac Efron's penis. Some of the lyrics include 'Asscheeks up, spread them wide… That's how we live, party, and play, every single day for the gay.' The song appears to be a takeoff on Latino performer Down AKA Kilo's 'Lean Like a Cholo.'"

Katie Couric headed to Iraq and Syria to lift ratings of the CBS Evening News: "Anchor travel is expensive and in this case dangerous. News orgs do it to goose ratings, draw attention to the story or the newscaster, or secure higher-profile interviews than a correspondent could. But Couric herself was critical of the notion of traveling for the sake of travel before she started the CBS job last summer. Couric said in August '06 that she would only undertake such trips, 'if I feel strongly that my presence will advance a story, that I'm not just window dressing to show that I'm at a particular story, which I think does happen quite frankly in certain situations.'"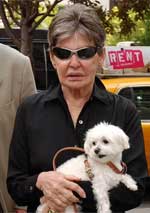 Rich bitch: Leona Helmsley leaves her dog $12 million in will. Two grandchildren get nothing for "reasons that they are aware of".

Los Angeles and the Mojave Desert seismically linked, say researchers: "This claim from a new study might come as a surprise to L.A. residents, who have been shaken by the 1994 Northridge quake, the Whittier quake in 1987 and numerous other temblors big and small. But even the Northridge quake, the costliest natural disaster in U.S. history at the time, was 'a drop in the bucket' compared with the massive jolts expected during high seismic activity, said researcher James Dolan of the University of Southern California."

BoiFromTroy lines up College Football's hottest men.

Hungarian radio station fired two employees after they published a photo on the station's website depicting State Secretary Gabor Szetey, the first openly gay Hungarian politician, standing outside Auschwitz wearing a pink triangle.

What's gay on TV this season? AfterElton has a preview: "The bad news is that by our count, not a single new scripted network show features a gay character in a lead or supporting role. Several shows have hinted they may add a gay character at some point in the future, but as for now there are no new characters for gay viewers. There are, however, two transgender characters on new shows and one is played by a transgender actress."