2007 MacArthur Genius Grants awarded: $500K each.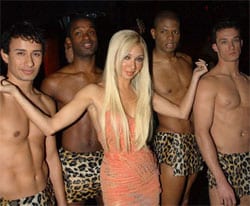 No more Oprah, Beyonce, Whitney, Donatella, Nuni Showner or Bronx Beat on Saturday Night Live: Maya Rudolph is not returning. UPDATE: Maya changes her mind.

Infectious bacteria sent to space found to be more dangerous upon return: " The salmonella sample that travelled millions of kilometers (miles) in orbit changed their pattern of certain genes compared to identical bacteria back on Earth, said the study in the journal Proceedings of the National Academy of Sciences. Following the shuttle flight, studies using mice showed the salmonella bacteria aboard the shuttle were "almost three times as likely to cause disease when compared with control bacteria grown on the ground," said a university statement outlining the study."

British authorities seize Nan Goldin print owned by Elton John prior to gallery showing after being tipped off by employee concerned about child exploitation.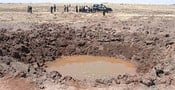 Remember that meteorite that hit a Peruvian village last week that made a whole bunch of villagers sick? Apparently it struck a location where there was arsenic in the groundwater: "The claim now is that the meteoroid was hot when it hit (or the impact itself generated the heat), creating a steam plume tainted with arsenic — everyone who complained of illness has recovered, the report says, by the way. Given that we know it's a meteorite now, that sounds plausible. Given the size of the crater and the eyewitness accounts, the meteoroid may have been big enough to retain quite a bit of heat when it hit."

The NYT celebrates the 50th anniversary of Sputnik: "Fifty years ago, before most people living today were born, the beep-beep-beep of Sputnik was heard round the world. It was the sound of wonder and foreboding. Nothing would ever be quite the same again — in geopolitics, in science and technology, in everyday life and the capacity of the human species."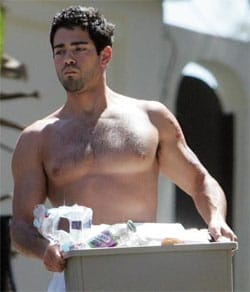 Let's talk trash with Jesse Metcalfe.

Brokeback Mountain to become opera. Pulitzer Prize winner Charles Wuorinen will compose it.

Seller of De la Hoya fishnet drag photos remorseful: "I can't believe we did this! For $70,000 you let them take advantage of me? What is going to happen to me? I've crushed a million hearts of kids . . . People look up to [de la Hoya.] . . . I'm really upset. I can't eat. I can't sleep."

Williamette University runner Stephen Millard comes out of the closet: "I am not out to anyone on the team, although I don't mind if they know. I think that bad reactions will be very limited. The campus is supportive, the coaches are supportive and the team has a lot of special men and women on it. I think they will like me for who I am as a person, as they do for everyone else. And when it comes down to it, my sexuality has no affect on how I perform or how I interact with my teammates."

George H.W. Bush's Kennebunkport pool boy tells all: "What do you say? 'Thanks for School of the Americas, and Iran-Contra, and NAFTA, and shipping all those jobs overseas, and arming Saddam, and funding the Taliban?' What do you say — 'You're a jerk?' There's nothing that can be put into a sentence that would capture the lives these people have taken, and the way of life that's been taken."