The American Civil Liberties Union has come out today in the defense of Idaho Senator Larry Craig, whose widely publicized guilty plea for "disorderly conduct" related to his arrest in a Minneapolis men's room led to the lawmaker's resignation from the Senate.
The ACLU contends that "it doesn't matter whether he solicited sex because that's not a crime," according to ABC News.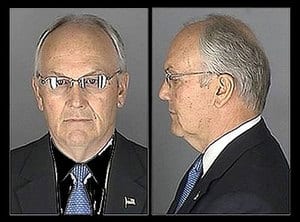 Said ACLU executive director Anthony Romero: "We believe the sting operation used to apprehend Mr. Craig was unconstitutional. The statute the government is relying upon makes it a crime to use certain offensive words…It is a crime to have sex in public. It is not a crime to propose or solicit sex in public, whether it's in a bar or in a bathroom. We clearly lay out what is the doctrine in terms of what speech is and is not protected. To be able to solicit sex in private, in public spaces, for instance, is constitutionally protected speech."
The Washington Post, in an editorial published over the weekend, said "More than gestures should be required to charge someone with a crime."
Craig reportedly sent a letter of apology to his Senate colleagues late last week: "The letter went directly to fellow senators. It accompanied a copy of the motion that Craig (R., Idaho) filed Monday in Hennepin County, Minn., courts, seeking to undo his Aug. 1 guilty plea to a disorderly-conduct misdemeanor…Craig's spokesman, Dan Whiting, said that he had not seen the letter or the Roll Call article that first mentioned it but that he was aware of it. He described it yesterday as merely a 'simple cover letter' for the legal filings. It went out to Craig's colleagues this week "so that senators, if they wanted, could read it without the media filter," Whiting said in an e-mail.
Meanwhile, more than one person has decided to visit the Minneapolis airport men's room where the whole incident began: "Royal Zino, who works at the shoeshine shop next to the public lavatory, said 'it's been crazy. People have been going inside, taking pictures of the stall, taking pictures outside the bathroom door.'"
ACLU Backs Senator Larry Craig [abc news]