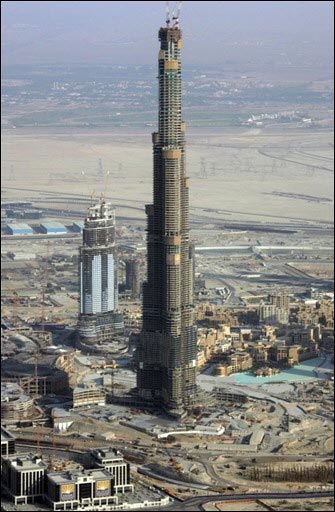 Developers of the Burj Dubai today announced that the skyscraper, still under construction, has surpassed Toronto's CN Tower to become the world's tallest freestanding structure. The Burj is 555.3 meters tall to the CN Tower's 553.3 meters.
Bloomberg reports: "Burj Dubai will eventually rise above the KVLY-TV mast in Blanchard, North Dakota, to become the world's tallest structure, Emaar said, without giving a target height. The 628.8-meter mast is supported by guy-wires and so is not free-standing, according to Emaar. Emaar is the Middle East's biggest real estate developer, and started building the $900 million, 160-storey Burj Dubai in 2004 to be the centerpiece of its $20 billion `Downtown' project. The tower is facing delays of at least a year after Swiss contractor Schmidlin Ltd. Facade Technology went bankrupt, leaving it without external walls."
In related news, developers of the nearby iPad building announced that it would now be the iPad Touch building.
Recently
WTC "Final Renderings" Revealed [tr]
To Dream, Perchance to Build [tr]
San Francisco: Three Firms Vie for West Coast's Tallest Skyscraper [tr]
Is This the Gayest House in America? [tr]