Josie Smith-Malave talked to The Advocate about the hate crime that she, her friend, and her sister experienced at a bar in Sea Cliff, Long Island over Labor Day weekend. After dancing together, Smith-Malave and her companions were called "fucking dyke" and "bush muncher" as they were attacked by a mob of 12 people.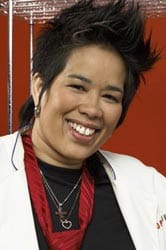 Said Smith-Malave: "We were close.I'm sure we didn't look straight. My hand was on her hip, my arm around her shoulder — we definitely looked like lesbians. I've never seen anything like this before. They were jumping out of their skin screaming at us. It was as if we had done something to their families. I was punched and kicked all over my body. Everyone that was in the bar, bartenders, they all spilled out the door of the bar, and when I was able to look around, all of those people just watched this happen."
Smith-Malave says the police only seemed interested in the fact that the mob stole items from them and contacted her lawyer after not hearing from them for three days. The investigation is ongoing.
UPDATE: There has been an arrest made in the case. WNBC reports: "Matthew W. Walli, 20, of Oregon, was arrested and charged with second-degree robbery as a bias crime, according to police. Police said Walli and approximately 12 others were involved in a confrontation with four women, including Smith-Malave, who were just ejected from Partners, a bar located at Roslyn Avenue and Sea Cliff Avenue, police said. The altercation escalated when the group began spitting on them and physically hitting them after making derogatory statements about the four women's sexual orientation, police said. During the altercation, Walli forcibly stole a video camera from one of the four women causing her to fall and injure her knee."
Former Top Chef contestant says she was viciously attacked for being gay [the advocate]
You may have missed…
Former Top Chef Contestant Gay Bashed at Long Island Bar [tr]