Elton John and Madonna make up after years of feuding: "At an awards show in 2004 Elton John famously said, 'Madonna, best fucking live act? Fuck off! Since when has lip-synching been live? That's me off her fucking Christmas card list but do I give a toss? No.' And that comment started their pepaw feud which ended last night when Elton introduced Madonna. Elton said, 'This is a moment you thought you would never see.' Then they hugged, bumped vaginas and Madonna said, He had 'written a grovelling apology and offered to join the Kabbalah.'"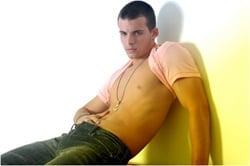 Junior: Brazil to get national gay magazine in the mold of OUT and Tetu to run quarterly. MIB: "The magazine developed by the guys from Mix Brasil is fun, informative, nicely edited, and most important, groundbreaking at a certain level. There are references to international publications here and there, such as an editorial I have seen before at Genre originally shot by Mr. Oppesidano, but that is natural and will probably happen until Junior finds its own identity and connects to its reader. There is also beautiful photography and editorial work: the feature on Brazilian dancers is superb, and so are the pictures of 18-year-old newcomer Lucas Pitione, who also graces the cover of the first issue."

AfterElton takes you through Torchwood, the BBC America sci-fi featuring John Barrowman.

Young Democrat born to gay lawmaker and partner in Seattle.

Mayoral candidates to address gay community in Auckland, New Zealand.

Scientists win approval for human-animal hybrid embryos: "The Human Fertilisation and Embryology Authority published its long-awaited public consultation on the controversial research yesterday, revealing that a majority of people were "at ease" with scientists creating the hybrid embryos. Researchers want to create hybrid embryos by merging human cells with animal eggs, in the hope they will be able to extract valuable embryonic stem cells from them. The cells form the basic building blocks of the body and are expected to pave the way for revolutionary therapies for diseases such as Alzheimer's, Parkinson's and even spinal cord injuries."

CLIP: The Killers, Live from Abbey Road: "The entire episode will be broadcast on Thursday, September 6 at 10 p.m. EST on the Sundance Channel. It will also include acoustic sets by Gnarls Barkley and The Feeling."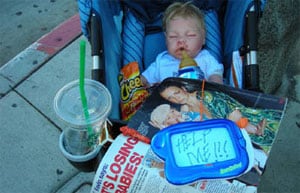 Britney Spears' parenting abuses targeted in sidewalk installation in front of swank West Hollywood eatery The Ivy.

San Diego City Council split 4-4 over offering support to gay marriage case before the California Supreme Cour.

DC-based gay activist Cheryl Spector dies after battle with Leukemia.

Anderson Cooper covers the Jena Six story: "For those that are just hearing about this for the first time, 6 high school students are facing felony attempted murder charges for a fight that ended a series of incidents in Louisiana. A day after a group African-American students asked to sit under a "whites-only" tree in the courtyard, three nooses were hung from the tree in response. Over the course of the next few months, a wing of the school was burned, black students were beatened and threatened, and the District Attorney was called in to quell the violence. What the DA did next should be shocking to most, and shows just how far we have to go to see real racial equality in America."