With regard to yesterday's pink t-shirt story, here's a news item out of South Carolina.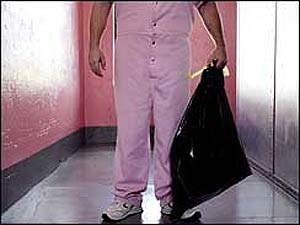 USA Today reports that Sherone Nealous, an inmate serving time for assault and battery with intent to kill at the Allendale Correctional Institution, has filed a lawsuit against the state's penal system.
South Carolina apparently forces inmates to wear pink jumpsuits as punishment for sexual misconduct. Nealous claims that the pink jumpsuit is discriminatory and puts him at greater risk of assault from other inmates.
A legal memorandum issued by the Department Corrections denies that allegation: "When the inmate population views an inmate wearing a pink jumpsuit, it is known that the clothing was assigned by (the Department of Corrections) as punishment for sexual misconduct. [It] conveys no suggestion that the inmate wearing the jumpsuit is a willing participant in homosexual activity or otherwise vulnerable to … assault."
According to USA Today, "Court documents say pink was chosen as the identifying mark for inmates involved in sexual activity partly because other colors were taken — yellow for segregation units, dark green on death row — but also because the system's prisoners don't like wearing pink, which 'contributes to its deterrent effect,' the memo states. South Carolina's pink policy applies to male and female inmates. Josh Gelinas, a spokesman for the S.C. Department of Corrections, said he doesn't know of other prisons that use pink jumpsuits for those engaging in sexual activity."
The paper then goes on to discuss some of the other "pink punishments" doled out around the country.
Are there societal perceptions regarding pink and masculinity? Of course. And given the recent reminder from Nova Scotia, we'd have to side with the inmate on this one.
Prisoners in pink: Deterrent or scarlet mark of danger? [usa today]